Pololu 3pi Robot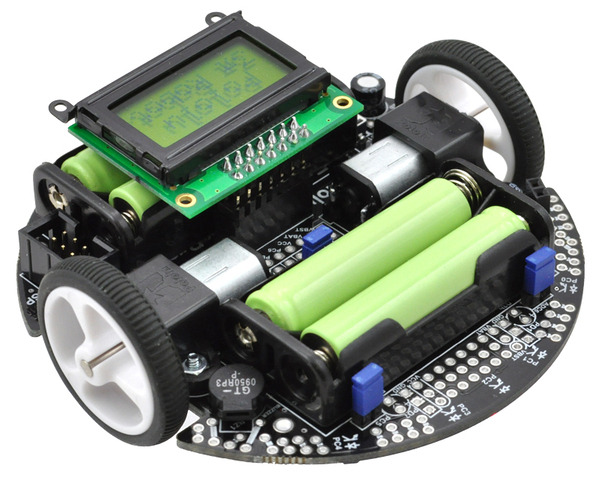 The Pololu 3pi robot is a complete, high-performance mobile platform featuring two micro metal gearmotors, five reflectance sensors, an 8×2 character LCD, a buzzer, and three user pushbuttons, all connected to a C-programmable ATmega328 AVR microcontroller. Capable of speeds exceeding 3 feet per second, 3pi is a great first robot for ambitious beginners and a perfect second robot for those looking to move up from non-programmable or slower beginner robots.
Compare all products in Original 3pi Robot or
Robot Kits without Soldering.
Documentation and other information
File downloads
A print-out of this quick-start sheet is included in with each shipped 3pi robot.
A Spanish version of our Pololu 3pi robot's user's guide provided by customer Jaume B, updated Nov 16, 2009.
A detailed presentation on teaching a robot to solve a non-looped line maze written by customer (and robotics professor) R. Vannoy. This can help you to better understand how to solve a line maze with your 3pi or custom maze-solving robot.
This DXF drawing shows the locations of all of the board's holes.
Recommended links
The 3pi discussion section of the Pololu Robotics Forum.
A series of interesting, customer-created open source projects for the 3pi robot, including barcode reading, grid navigation, and remote control.
These customer-written projects are intended to introduce the novice user to all the components on the 3pi robot and how they can be used while programming with the Arduino IDE. Each project builds on the one before it and comments within the programs are used to provide background information when new items are introduced. By Daniel J. Sullivan, August 2011.
Atmel's product page for the ATmega328P.
The web site for AVR Libc, which is the standard library of functions that you can use with C and C++ on the AVR.
AVR community with forums, projects, and AVR news.
Documentation for GCC, including the AVR GCC C/C++ compilers.
A free, open-source suite of development tools for the AVR family of microcontrollers, including the GNU GCC compiler for C/C++.
The older version of Atmel's free integrated development environment (IDE) for AVRs, which is no longer supported by Atmel.
This tool, which was made by Anibit, one of our distributors, provides a graphical programming environment for the 3pi robot which runs inside a web browser. The graphical code is converted to Arduino C++ code, which you can then copy and paste into the Arduino IDE. To use this tool, you will need to set up the Arduino IDE for programming the 3pi.
Review of the 3pi robot written by R. Steven Rainwater, founding editor of Robots.net.
Customer Michael Shimniok has written a guide to programming AVRs (the Orangutan LV-168, specifically) using the Mac.
A paper (in Portuguese) describing the Pololu 3pi robot in general, and, specifically, how to write optimized maze solving code. By Ana Paula, December 2010.