3pi+ Chassis Kit (No Motors or Electronics)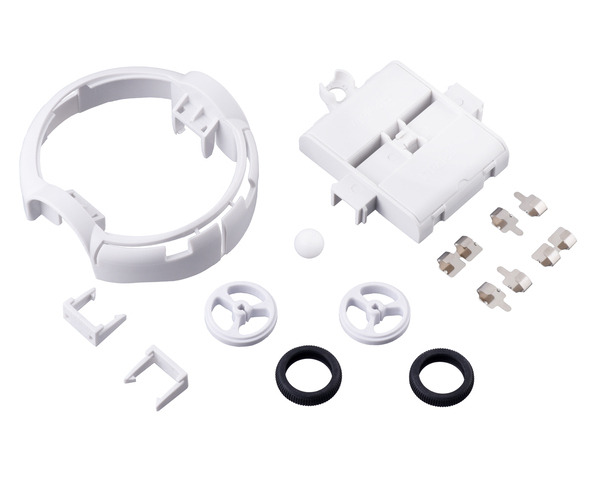 This kit gives you the structural pieces you need to build your own 3pi+ robot. The chassis includes an integrated ball caster and battery holder for four AAA cells, a pair of 32×7 mm wheels with silicone tires, a bumper skirt, and motor clips that can be used to hold in the gear motors for operation without the bumper skirt. The chassis is designed to work with our Micro Metal Gearmotors, and you can add a 3pi+ 2040 Control Board or 3pi+ 32U4 Control Board or your own electronics to complete your robot. Motors and electronics are not included.

Compare all products in 3pi Robots and Accessories or

Chassis.
Overview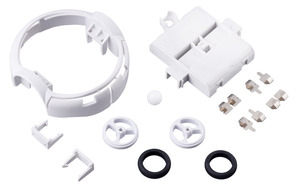 3pi+ Chassis Kit (No Motors or Electronics).
This chassis gives you everything you need to build your own differential-drive 3pi+ robot based on you own choice of Micro Metal Gearmotors and electronics. Motors are deliberately not included with the kit so that you can pick your own to customized the performance of your robot. The kit includes the following parts:
3pi+ chassis, with integrated 4×AAA battery holder and ball caster
3pi+ bumper skirt
two 3pi+ motor clips
two 32×7 mm Pololu wheel hubs and silicone tires
four single AAA battery contacts
two double AAA battery contacts
1/2″-diameter plastic ball
The majority of the chassis is made from white ABS plastic. The 3pi+ chassis has integrated holders designed specifically for Micro Metal Gearmotors, which can then be securely held in place by snapping on the motor clips or the bumper skirt. The included wheels press-fit onto the shafts of the Micro Metal Gearmotors. The 3pi+ chassis also has an integrated rear ball caster socket that the included plastic ball pops into.
| | |
| --- | --- |
| 3pi+ Chassis Kit, rear view with motors and motor clips installed in place of the outer skirt (motors not included). | 3pi+ Chassis Kit, top view with motors installed and without outer skirt (motors not included). |
| 3pi+ Chassis Kit, rear view, assembled with Micro Metal Gearmotors (motors not included). | 3pi+ Chassis Kit, top view, assembled with Micro Metal Gearmotors (motors not included). |
The following pictures show what the chassis looks like in profile with and without the bumper skirt:
| | | |
| --- | --- | --- |
| 3pi+ Chassis Kit, front view, assembled with Micro Metal Gearmotors (motors not included). | 3pi+ Chassis Kit, side view, assembled with Micro Metal Gearmotors (motors not included). | 3pi+ Chassis Kit, rear view, assembled with Micro Metal Gearmotors (motors not included). |
| 3pi+ Chassis Kit, front view with motors and motor clips installed in place of the outer skirt (motors not included). | 3pi+ Chassis Kit, side view with motors and motor clips installed in place of the outer skirt (motors not included). | 3pi+ Chassis Kit, rear view with motors and motor clips installed in place of the outer skirt (motors not included). |
3pi+ Robots
This chassis works with the 3pi+ 2040 Control Board and 3pi+ 32U4 OLED Control Board, and you can add one along with a pair of Micro Metal Gearmotors to make your own 3pi+ 2040 Robot or 3pi+ 32U4 OLED Robot:
| | |
| --- | --- |
| 3pi+ 2040 Control Board. | 3pi+ 2040 Robot. |
This chassis kit and control board are already included as part of the following 3pi+ 2040 and 3pi+ 32U4 assembled robots and kits:
3pi+ 2040 versions:
3pi+ 32U4 OLED versions:
Original 3pi+ 32U4 versions (with LCD):