Laser-Cut Mylar SMT Stencil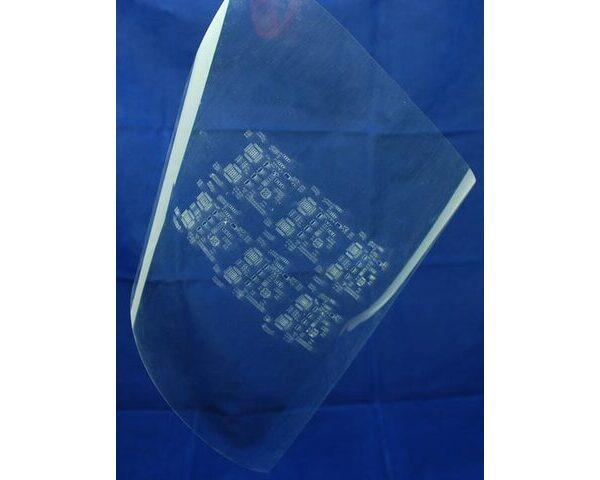 Our SMT stencil service offers low-cost, plastic stencils that are an economical alternative to metal stencils or hand soldering for prototypes and low-volume manufacturing runs of PC boards with surface-mounted components. If you need to solder a few dozen or more contacts, these stencils are a great way to do it.
Click here to get a quote and place your order
What we offer: cheap stencils for electronics prototyping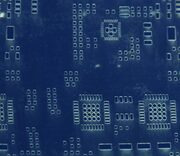 Close-up of a mylar solder paste stencil (the mylar is not stretched flat, making the apertures look distorted).
We offer low-cost, plastic stencils for applying solder paste to printed circuit boards. Surface-mount components can then be placed on top of the solder paste, and the entire assembly is heated to solder the components. This reflow soldering method is superior to soldering with soldering irons because it allows soldering of pads that are on the bottoms of modern packages and that are therefore physically inaccessible once the part is in place. Also, it is usually quicker to assemble boards with solder paste and a stencil than with a soldering iron. SparkFun Electronics has a nice tutorial on surface-mount soldering with our stencils.
Our stencils are made from 3-mil or 4-mil mylar with a low-power CO2 laser. The finest pitch we can handle is approximately 0.5 mm, and . The stencils are just a piece of thin plastic with a bunch of holes cut in it. There is no frame, squeegee, or solder paste included. The maximum material size we can handle is approximately 24" x 12", so the stencil area will need to be smaller than that.
Price: $25 for first 4 square inches, $1 for each additional square inch
The minimum price for a stencil is $25 for up to 4 square inches of apertures. We round each dimension up to the next whole number, so a 2.1" x 2.1" design would be considered 9 square inches and cost $30. We measure the apertures only, so your stencil size will probably be smaller than your PCB size. We will leave at least 2" of material on all sides of the stencil. The outside border is hand cut with scissors; please let us know if you need a more precise border or a bigger margin around the apertures (for instance, for mounting into a custom frame). The standard turn time for your stencil is five business days; expediting your stencil costs 20% more (on top of the standard-turn price) per expedited day.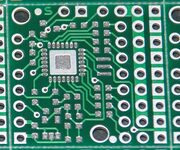 Close-up view of a circuit board with solder paste printed using a mylar stencil.
What we do NOT offer
We do not cut metal stencils, and we do not sell framed stencils. If you need precision stencils for very fine-pitch components or for volume manufacturing, you should use a stainless steel stencil. Please do not expect a $300 stencil for $25.
We are also limited to cutting apertures that are oblongs and rectangles that are all parallel or perpendicular to each other and circles. We cannot cut complex apertures or designs that have apertures at unusual angles.
How to order
To order a stencil, use our instant quote form, where you can submit RS-274X gerber files and choose your desired turn time. Because the gerber file will be processed to determine the stencil size, please make sure the file you submit has only what you want cut, without any vias, through-hole pads, text, or extra borders. The file you submit should be of the (also called or ) layer, not the solder mask layer. We can also accept DXF files, but there is an additional charge for processing these, and you will need to manually specify the dimensions of the stencil.
After you place your order, we will prepare preview file(s) to show you exactly what we are going to make. When the preview files are ready, we will notify you by email. The email will contain a link to our web site, where you must approve the preview file(s) before we can begin the production of your stencil. You can also get to your preview file by logging in to your Pololu account and clicking My Quotes on the right sidebar. The preview files exist primarily for you to verify that all of your desired apertures are present and that they are at the correct locations. Note that we modify the shapes of the apertures slightly to account for the laser beam shape (kerf) and cutting process, and sometimes we make additional minor modifications that result in better stencils. The sooner you approve the preview files, the sooner we can get started cutting your stencils!
Return and cancellation policy for SMT stencils
Because SMT stencils designs are specific to each customer, partially made stencils or returned stencils have little or no value to anyone else. Therefore, we do not accept returned stencils, and order cancellations are more expensive than for non-custom orders. If you cancel an order prior to approving the preview file, we will refund half of the stencil price and the entire shipping charge. If you cancel after approving the preview file but before the stencil ships, we will refund only the shipping charge.