Romi Chassis and Accessories
The versatile Romi chassis is a great starting point for your next mobile robot. It is a differential-drive platform with a diameter of 6.5″ (165 mm) and an integrated battery holder for six AA batteries. The drive wheels are located on a diameter of the circular base plate, allowing for turns or spinning in place. A large, fixed ball caster in the rear provides a smooth third point of contact, and a second ball caster (not included) can optionally be added to the front. The chassis uses 70×8mm Pololu wheels and Mini Plastic Gearmotors with extended backshafts to enable quadrature encoders for position feedback.
The Romi chassis has an abundance of general-purpose mounting holes and slots intended for various sizes of screws. These holes can be used for mounting your own electronics or the variety of Romi accessories we have available, such as the Robot Arm for Romi:
The plastic components making up the chassis are available in six colors, either individually (for use as replacement parts or to make custom color combinations) or in kits that include motors and battery contacts.
This animation shows how the parts fit together:

Compare all products in this category
Subcategories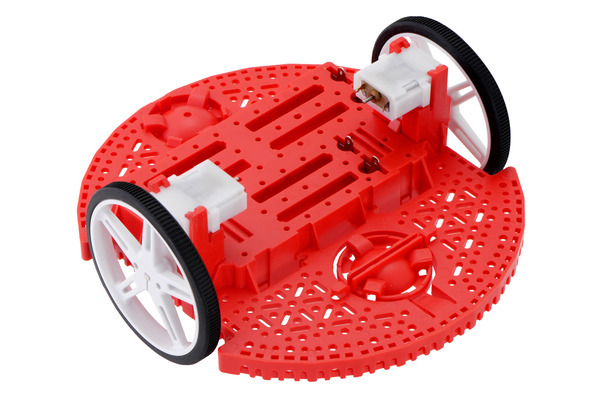 Romi chassis kits include motors, wheels, one ball caster, battery contacts, and all other mechanical components required to assemble a chassis.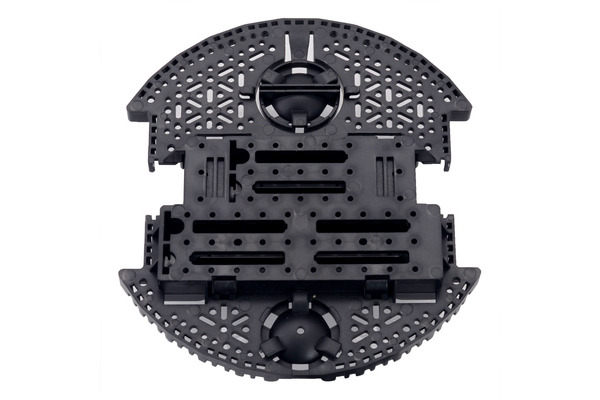 Get individual components as replacement parts for your Romi chassis or to design your own color scheme.
---
Products in category "Romi Chassis and Accessories"