Zumo 32U4 OLED Robot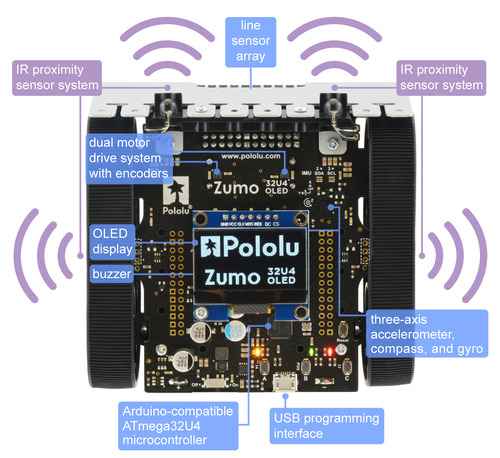 Main features of the Zumo 32U4 OLED robot.
The highly integrated Zumo 32U4 OLED is our newest Zumo robot. It improves upon the original Zumo 32U4 robot by replacing the 8×2 character LCD with a 128×64 graphical OLED display. Enhancements over the even older Zumo robot for Arduino include a built-in Arduino-compatible ATmega32U4 microcontroller, encoders for closed-loop motor control, and proximity sensors for obstacle detection. The robot is compact enough to qualify as a mini sumo robot, but its high-performance motors and integrated sensors make it versatile enough to serve as a general-purpose small robot.
The video below shows just a few of the many fun things you can do with an unmodified, stock Zumo 32U4 robot. It shows the original Zumo 32U4, but the newer Zumo 32U4 OLED is capable of the same things:

Compare all products in this category
Products in category "Zumo 32U4 OLED Robot"