Pololu
| | |
| --- | --- |
| | Pololu building at 920 Pilot Road in Las Vegas, Nevada. |
Pololu was founded in 2000 and has headquarters in Las Vegas, Nevada, USA. Pololu is an electronics manufacturer and online retailer serving education, maker, and professional engineering industries with products ranging from sensors and motion control electronics to motors and wheels to complete robots. You can find out more about Pololu on our About page.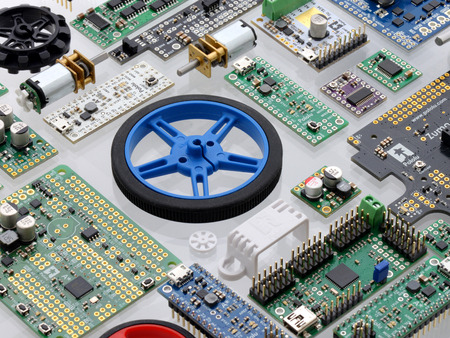 An assortment of Pololu products.
Pololu‑branded items fall into four general areas:
Electronics products

We design and manufacture our electronics products in Las Vegas, Nevada. We have two modern surface-mount manufacturing lines optimized for our high mix of products. Our bare circuit boards are generally made in China, and components are sourced globally.
Mechanical products that we manufacture in-house

We design our mechanical parts in Las Vegas, Nevada, and manufacture products there as well. These currently consist of laser-cut products, though we have injection molded and 3D printed production parts in-house in the past.
Mechanical products that are manufactured for us by third parties

Our injection-molded and machined products are designed by Pololu engineers and then manufactured by various other companies, usually in China.
Metal gearmotors

Pololu's large and growing selection of metal gearmotors consists of separately sourced motors and gearboxes, which are tailored to our specifications and then assembled at our facilities in Shenzhen, China or Las Vegas, Nevada, USA. As our selections of motors and compatible gearboxes have grown, more of the final assembly has been moving to Las Vegas so that we can quickly ship large quantities of whichever combinations customers happen to order. For volume orders (typically at least one thousand pieces) shipping to destinations outside of North America, we can arrange for shipments directly from China to reduce shipping costs and lead times.