Zumo 32U4 Front Sensor Array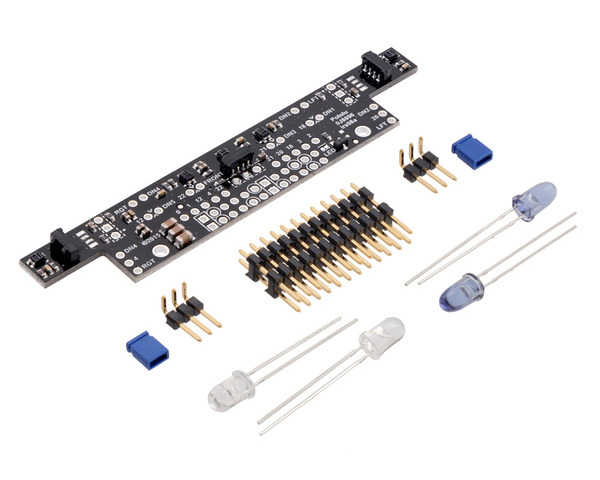 This is the front sensor array of the Zumo 32U4 robot. It is included as part of the Zumo 32U4 OLED Robot Kit and built into the assembled versions of the Zumo 32U4 Robots. It is not intended for use with the Zumo Robot for Arduino or Zumo Shield for Arduino. Additional header pins and infrared LEDs are included.

Compare all products in Zumo 32U4 OLED Robot or

Original Zumo 32U4 Robot.
Overview
This sensor array features five downward-facing reflectance sensors for line-following or edge-detection, and it also includes front- and side-facing detectors that work together with IR emitters on the Zumo 32U4 main board to create a proximity sensor system. It is primarily intended as a replacement part, but it can also be used to make your own Zumo 32U4 robot if you only want a subset of the parts included with our full kit. The Zumo 32U4 OLED Robot Kit consists of the following:
Two micro metal gearmotors and four AA batteries are also required to complete the Zumo 32U4 robot.
Included components
The Zumo 32U4 Front Sensor Array includes:
2×12 extended male header for sensor array
two 1×3 right-angle male headers and two shorting blocks – jumpers for sensor array
two wide-angle and two narrow-angle through-hole infrared LEDs (these plug into the main board and serve as forward emitters for the proximity sensor detectors located on the front sensor array)
People often buy this product together with: