Motor Connections
These wheels are designed to press-fit securely onto the 3mm D output shafts on many of our gearmotors, including our micro metal gearmotors and our plastic gearmotors with 3mm D-shafts. They also work with our 35:1 and 115:1 15.5D metal gearmotors, as well as with our selection of Solarbotics metal gear motors. These are the same wheels that are used on the 3pi robot. They are available with white plastic hubs or black plastic hubs.
Both our micro metal gearmotor bracket and extended micro metal gearmotor bracket work with this wheel.
Specifications
Diameter: 1.26″ (32 mm)
Width of tire: 0.26″ (6.5 mm)
Weight: 0.11 oz (3.2 g)
Shaft type: 3mm "D"
We have similar wheels available in different sizes and colors:

Pololu wheels with 90, 80, 70, 60, and 32mm diameters.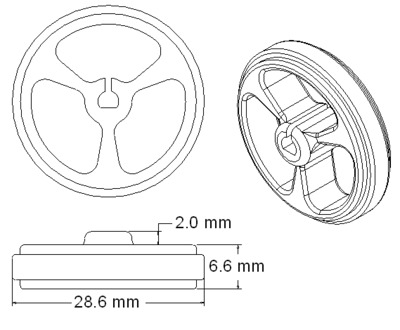 Hub diagram with dimensions of the Pololu Wheel 32×7mm.
People often buy this product together with: