Pololu 3pi Robot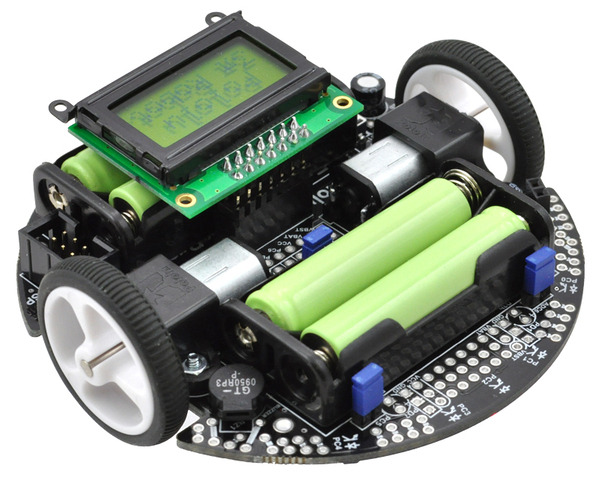 The Pololu 3pi robot is a complete, high-performance mobile platform featuring two micro metal gearmotors, five reflectance sensors, an 8×2 character LCD, a buzzer, and three user pushbuttons, all connected to a C-programmable ATmega328 AVR microcontroller. Capable of speeds exceeding 3 feet per second, 3pi is a great first robot for ambitious beginners and a perfect second robot for those looking to move up from non-programmable or slower beginner robots.

Compare all products in Original 3pi Robot or

Robot Kits without Soldering.
Dimensions
General specifications
| | |
| --- | --- |
| Processor: | ATmega328P |
| Motor driver: | TB6612FNG |
| Motor channels: | 2 |
| User I/O lines: | 21 |
| Minimum operating voltage: | 3 V2 |
| Maximum operating voltage: | 7 V2 |
| Maximum PWM frequency: | 80 kHz |
| Reverse voltage protection?: | Y |
| External programmer required?: | Y |
Notes: