Zumo 32U4 Robot (Assembled with 75:1 HP Motors)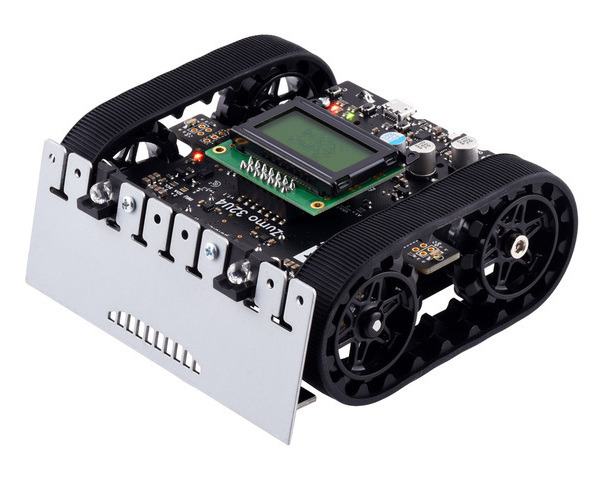 The Pololu Zumo 32U4 robot is a versatile tracked robot based on the Arduino-compatible ATmega32U4 MCU. It includes two 75:1 HP micro metal gearmotors along with integrated dual motor drivers, an LCD, quadrature encoders, line sensors, side and front proximity sensors for detecting objects, and a full IMU for detecting impacts and tracking orientation. The low-profile robot is less than 10 cm × 10 cm—small enough to qualify for Mini Sumo. No soldering or assembly is required; just add 4 AA batteries and a USB cable and your Zumo is ready for programming.
Compare all products in Zumo 32U4 Robot or
Robot Kits without Soldering or
Zumo Kits and Robots.
Documentation and other information

Pololu Zumo 32U4 Robot User's Guide
(
Printable PDF
)
User's manual for the Pololu Zumo 32U4 robot.
Recommended links
The Zumo32U4 library for the Arduino IDE helps interface with the on-board hardware on the Zumo 32U4 robot.
This repository contains Arduino add-on files, Windows drivers, and bootloaders for the A-Star 328PB, A-Star 32U4, and the rest of our 32U4 family of boards.
Microchip's product page for the ATmega32U4 AVR microcontroller, with links to its datasheet, application notes, and other resources.
This is a YouTube playlist by control systems lecturer Brian Douglas that uses the L3GD20 MEMS gyroscope. It describes the fundamentals of the gyro and how to use it for closed and open loop control projects with MATLAB/Simulink and Arduino.