Pololu Blog (Page 73)
Welcome to the Pololu Blog, where we provide updates about what we and our customers are doing and thinking about. This blog used to be Pololu president Jan Malášek's Engage Your Brain blog; you can view just those posts here.
Popular tags: community projects new products raspberry pi arduino more…
Posted by
Ben
on 3 February 2012
This project by Pololu forum user Wilfredo shows how to control a 3pi robot by directly connecting two joystick outputs to two of its analog inputs. Here is a schematic of his setup: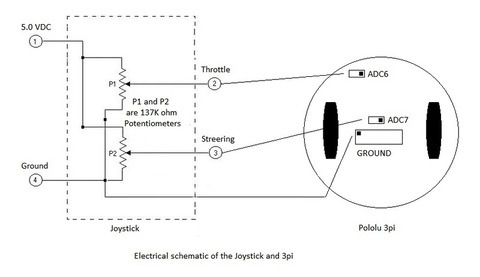 Schematic for controlling a Pololu 3pi robot using a joystick.