131:1 Metal Gearmotor 37Dx57L mm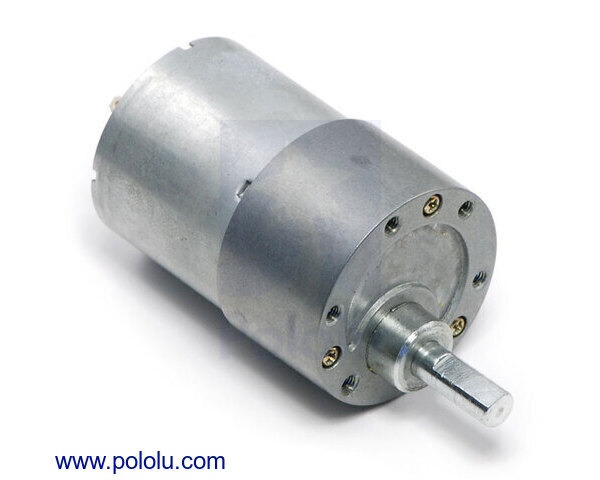 This gearmotor is a powerful brushed DC motor with 131.25:1 metal gearbox intended for operation at 12 V. These units have a 0.61"-long, 6 mm-diameter D-shaped output shaft. This gearmotor is also available with an integrated encoder.

Key specs at 12 V: 80 RPM and 300 mA free-run, 250 oz-in (18 kg-cm) and 5 A stall.
Compare all products in 37D mm Gearmotors.
Overview
This powerful brushed DC gearmotor is available in six different gear ratios. Versions with an integrated quadrature encoder are also available, including just the motor and encoder portion by itself (no gearbox).
Note: Stalling or overloading gearmotors can greatly decrease their lifetimes and even result in immediate damage. Stalls can also result in rapid (potentially on the order of seconds) thermal damage to the motor windings and brushes; a general recommendation for brushed DC motor operation is 25% or less of the stall current.
These motors are intended for use at 12 V, though in general, these kinds of motors can run at voltages above and below the nominal voltage (they can begin rotating at voltages as low as 1 V). Lower voltages might not be practical, and higher voltages could start negatively affecting the life of the motor.
Details for item #1107
Exact gear ratio: ``(25×30×30×28×30) / (10×10×10×12×12) = bb(131.25:1)``
Gearmotor accessories
The face plate has six mounting holes evenly spaced around the outer edge threaded for M3 screws. These mounting holes form a regular hexagon and the centers of neighboring holes are 15.5 mm apart. We carry two brackets for these gearmotors: a stamped aluminum L-bracket (sold in pairs) and a sturdier, tombstone-style machined aluminum bracket (sold individually):
| | |
| --- | --- |
| Gearmotor with bracket and hub. | Pololu machined aluminum bracket for 37D mm metal gearmotors mounting a motor to a clear piece of acrylic. |
The 6 mm diameter gearbox output shaft works with the Pololu universal aluminum mounting hub for 6mm shafts, which can be used to mount our larger Pololu wheels (80mm- and 90mm-diameter) or custom wheels and mechanisms to the gearmotor's output shaft as shown in the left picture below. Alternatively, you could use our 6mm scooter wheel adapter to mount many common scooter, skateboard, and inline skate wheels to the gearmotor's output shaft as shown in the right picture below:
| | |
| --- | --- |
| Black Pololu 90×10mm wheel on a Pololu 37D mm metal gearmotor. | A 37D mm gearmotor connected to a scooter wheel by the 6 mm scooter wheel adapter. |
Finally, our 12mm hex wheel adapter for 6mm shaft (also available in an extended version) lets you use these motors with many common hobby RC wheels, including Dagu Wild Thumper Wheels:

12mm Hex Wheel Adapter for 6mm Shaft connecting a Wild Thumper Wheel to a 37D mm Metal Gearmotor.
Dimensions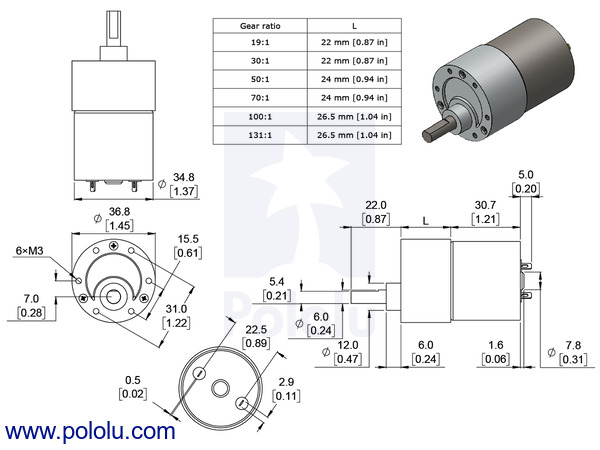 Dimensions of the 37D mm metal gearmotor (without encoder). Units are mm over [inches].
This diagram is also available as a downloadable PDF (277k pdf).
Warning: Do not screw too far into the mounting holes as the screws can hit the gears. We recommend screwing no further than 3mm (1/8") into the screw hole.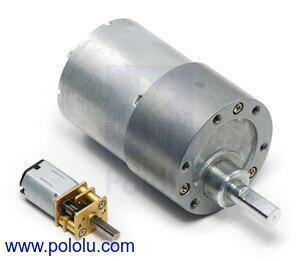 37D mm metal gearmotor next to a micro metal gearmotor for size comparison.
Selecting the Right Gearmotor
We offer a wide selection of metal gearmotors that offer different combinations of speed and torque. Our metal gearmotor comparison table can help you find the motor that best meets your project's requirements.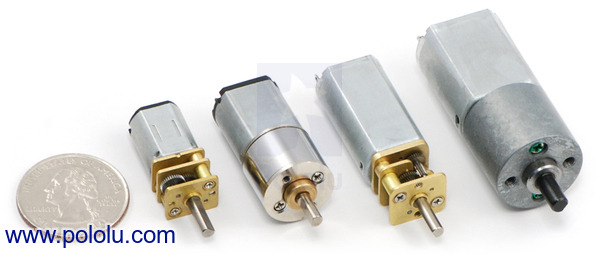 Some of the Pololu metal gearmotors.
People often buy this product together with: