37D Metal Gearmotors
Measuring 37 mm (1.46″) in diameter, these brushed DC gearmotors are the largest and most powerful we carry. They are available in a range of gear ratios from 6.3:1 to 150:1 and with 12 V or 24 V motors, and all versions are available with integrated 64 CPR quadrature encoders on the motor shafts.
Alternatives available with variations in these parameter(s): gear ratio motor type encoders? Select variant…
The 12 V and 24 V motors offer approximately the same performance at their respective nominal voltages, with the 24 V motor drawing half the current of the 12 V motor. See the 37D metal gearmotor datasheet (2MB pdf) for more information, including detailed performance graphs for each gearmotor version. You can also use our dynamically sortable 37D gearmotor comparison table to search for the version that offers the best combination of speed, torque, and current draw for your particular application. A more basic comparison table is available below.
Note: The listed stall torques and currents are theoretical extrapolations; units will typically stall well before these points as the motors heat up. Stalling or overloading gearmotors can greatly decrease their lifetimes and even result in immediate damage. The recommended upper limit for continuously applied loads is 10 kg-cm (150 oz-in), and the recommended upper limit for instantaneous torque is 25 kg-cm (350 oz-in). Stalls can also result in rapid (potentially on the order of seconds) thermal damage to the motor windings and brushes; a general recommendation for brushed DC motor operation is 25% or less of the stall current.

Compare all products in this category
Subcategories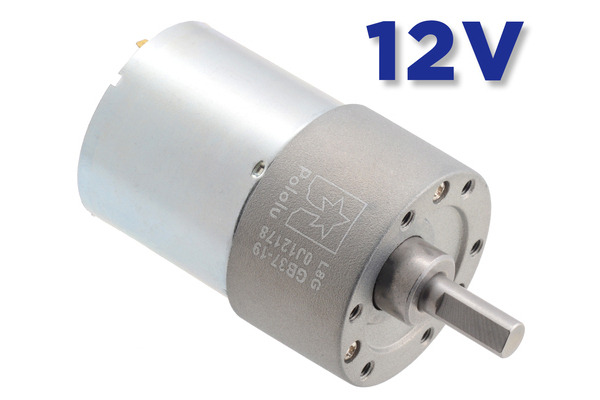 These 37D gearmotors feature 12 V motors with gearboxes ranging from 6.3:1 to 150:1. All versions are available with integrated 64 CPR encoders on the motor shafts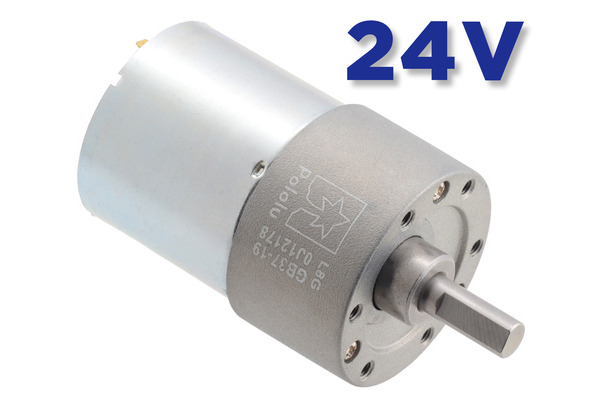 These 37D gearmotors feature 24 V motors with gearboxes ranging from 6.3:1 to 150:1. All versions are available with integrated 64 CPR encoders on the motor shafts
---