A-Star 32U4 Mini ULV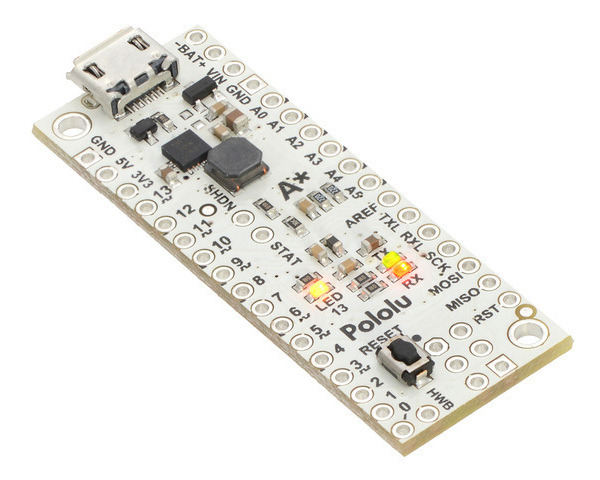 The A-Star 32U4 Mini ULV is a programmable module based on the ATmega32U4 from Microchip (formerly Atmel). Unlike competing products, it has an on-board switching step-up regulator that allows it to be powered efficiently from a 0.5 V to 5.5 V supply. This compact 1.9″ × 0.7″ board breaks out all 26 of the microcontroller's I/O pins (of which 7 can be used as PWM outputs and 12 as analog inputs), and loading programs is made easier by a Micro-USB interface and a preloaded Arduino-compatible bootloader.
Alternatives available with variations in these parameter(s): input voltage range Select variant…

Compare all products in A-Star 32U4 Mini.
- 12 July 2018

A while ago, I made a wedding gift for some friends, both of whom are avid Star Wars fans. The gift was basically a multi-piece decorative set...

- 25 July 2014

We are having a summer promotion to celebrate the introduction of the A-Star Minis: on orders over $100, get any A-Star for only $8 with coupon...

- 18 July 2014

A few months ago, we released the A-Star 32U4 Micro, a general-purpose microcontroller breakout board based on the Atmel ATmega32U4, and we...