New products: A-Star 32U4 Minis
Posted by
Paul
on 18 July 2014
A few months ago, we released the A-Star 32U4 Micro, a general-purpose microcontroller breakout board based on the Atmel ATmega32U4, and we discussed our plans to extend the design with additional integrated features. Today, we are thrilled to announce a major expansion of the family with the introduction of the A-Star 32U4 Mini ULV, A-Star 32U4 Mini LV, and A-Star 32U4 Mini SV.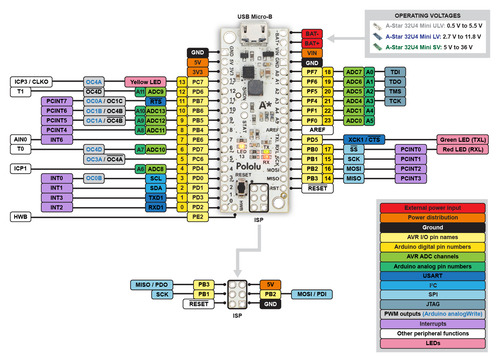 A-Star 32U4 Mini pinout diagram (listed SV voltage range is for original ac02c version).
Like the A-Star Micro, the A-Star Minis are Arduino-compatible boards based on the ATmega32U4. The Minis are expanded boards that provide access to almost all of the pins of the AVR (including a few more than the Arduino Leonardo and Arduino Micro), but what really sets them apart from competing products are their efficient power supply systems based on switching regulators. Each model is based on a different voltage regulator, and its name includes a designation corresponding to its input voltage range: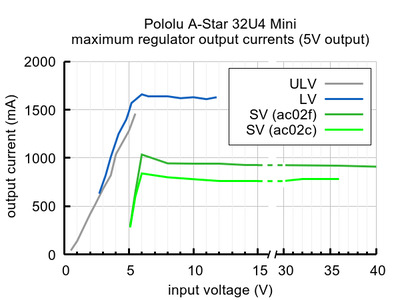 Typical maximum output current of the regulators on the A-Star 32U4 Mini boards.
The regulator designs are closely related to some of our favorite voltage regulator boards, the U1V11F5, S7V8F5, and D24V5F5. Taken together, this range of options lets you power your project with anything from a single NiMH cell to a 24 V lead-acid battery or an 8-cell LiPo pack. With typical currents of 500 mA to 1 A, you get plenty of 5 V power for your AVR and an array of peripheral devices, or at the other end of the scale, these regulators allow your project to make effective use of low-power modes on the AVR, potentially operating on a battery for months at a time.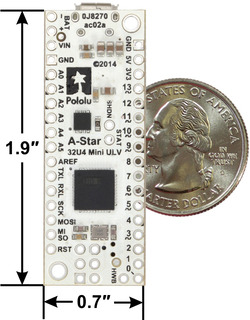 A-Star 32U4 Mini ULV, bottom view with dimensions.
Another exciting feature of the power supply system on the A-Star Minis is seamless USB power switching provided by an onboard TPS2113A power multiplexer. This means that you can safely connect both USB and external power, and you can monitor or control the selected supply, without losing power or shorting your supplies together.
We think that the A-Star Minis are by far the most capable AVR breakout boards for their size, and they should be an excellent choice for almost any project needing a compact, Arduino-compatible controller. We have priced them so that it should be an easy choice, too. For more information or to order, see the A-Star controller category.
0 comments
Post a comment