Arduino Micro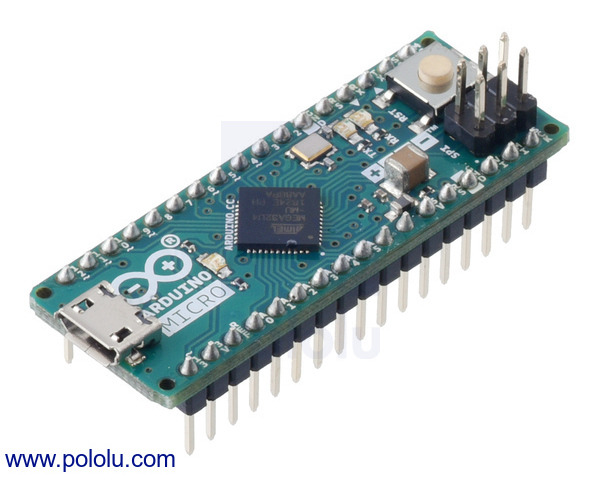 The Arduino Micro is essentially a shrunk-down (1.9″ × 0.7″) version of the Arduino Leonardo: it is a microcontroller board based on the ATmega32U4 running at 16 MHz with 24 digital input/output pins (of which 7 can be used as PWM outputs and 12 as analog inputs). This board ships with the male header pins soldered in, as shown in the product picture.

Compare all products in Arduino-Compatible.
Note: This product is manufactured in Italy by affiliates of Arduino Srl, and the product packaging suggests downloading the Arduino IDE from arduino.org. However, we use and recommend using the normal Arduino IDE from arduino.cc, which is the IDE we ensure our Arduino libraries work with.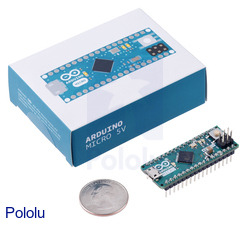 Arduino Micro with packaging and U.S. quarter for size reference.

Arduino Micro, top view.

Arduino Micro, bottom view.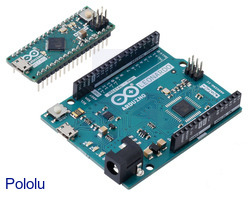 Arduino Micro and Arduino Leonardo.
Overview
The Arduino Micro is a microcontroller board based on the ATmega32U4, developed in conjunction with Adafruit. It has 24 digital input/output pins (of which 7 can be used as PWM outputs and 12 as analog inputs), a 16 MHz crystal oscillator, a micro USB connector, an in-circuit system programming (ICSP) header, and a reset button. It contains everything needed to support the microcontroller; simply connect it to a computer with a Micro USB cable (not included) to get started. The headers are arranged with a 0.1″ spacing for compatibility with standard solderless breadboards and perfboards and connectors that use a 0.1″ grid.
The Arduino Micro features a user-programmable ATmega32U4 AVR microcontroller that has built-in USB functionality, eliminating the need for a secondary processor or serial adapter. This makes the Arduino Micro more versatile: in addition to supporting a virtual (CDC) serial/COM port interface, it can appear to a connected computer as a mouse and keyboard. See Arduino's getting started page for more implications of the Arduino Micro's single-MCU design.
The Arduino has a large support community and an extensive set of support libraries and hardware add-on "shields" (e.g. you can easily make your Arduino wireless with our Wixel shield), making it a great introductory platform for embedded electronics. Note that we also offer a SparkFun Inventor's Kit, which includes an Arduino Uno along with an assortment of components (e.g. breadboard, sensors, jumper wires, and LEDs) that make it possible to create a number of fun introductory projects.
We also carry A-Star programmable controllers that are based on the same ATmega32U4 microcontrollers as the Arduino Micro and Leonardo and ship with Arduino-compatible bootloaders. The A-Star 32U4 Minis are the same size as the Arduino Micro but offer a number of advantages, including integrated switching regulators that let them operate efficiently over a much wider voltage range (the Mini ULV can operate down to 0.5 V, the LV works with voltages above and below 5 V, and the SV works up to 40 V), and the A-Star 32U4 Micro is an even smaller, lower-cost alternative.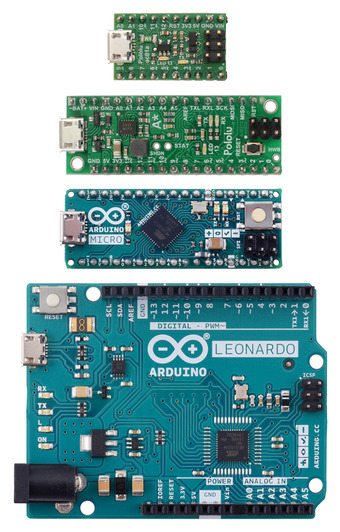 Pololu A-Star 32U4 Micro, Pololu A-Star 32U4 Mini SV, Arduino Micro, and Arduino Leonardo.
More information about the Arduino Micro is available on Arduino's website.
Summary
Microcontroller: ATmega32U4
Operating voltage: 5 V
Input voltage (recommended): 7-12 V
Digital I/O pins: 24 (of which 7 provide PWM output)
Analog input pins: 12(1)
DC current per I/O pin: 40 mA
DC current for 3.3V pin: 50 mA
Flash memory: 32 KB of which 4 KB used by bootloader
SRAM: 2.5 KB
EEPROM: 1 KB
Clock speed: 16 MHz
(1) The Arduino Micro has 24 total available I/O lines; all of them can function as digital I/O lines, and twelve of them can be used as analog inputs.
People often buy this product together with: