131:1 Metal Gearmotor 37Dx73L mm 12V with 64 CPR Encoder (Spur Pinion)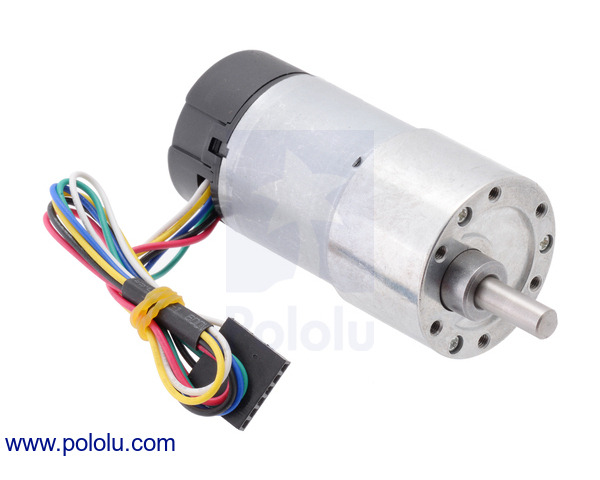 This gearmotor is a powerful 12V brushed DC motor with a 131.25:1 metal gearbox and an integrated quadrature encoder that provides a resolution of 64 counts per revolution of the motor shaft, which corresponds to 8400 counts per revolution of the gearbox's output shaft. These units have a 16 mm-long, 6 mm-diameter D-shaped output shaft. This gearmotor is also available without an encoder.
| voltage | no-load performance | stall extrapolation |
| --- | --- | --- |
| 12 V | 76 RPM, 200 mA | 45 kg⋅cm (630 oz⋅in), 5.5 A |
File downloads
3D models of 37D mm gearmotors (5MB zip)

This file contains 3D models (in the step file format) of the 37D mm gearmotors with and without encoders.
Recommended links
This MATLAB script, written by Ali Asgher Mansoor Habiby, plots speed, power, current draw, and efficiency as they vary with torque when you input the gearmotor specifications. It also prints the resistance of the motor, and the current draw and torque at which maximum efficiency and maximum power occur.