30:1 Metal Gearmotor 37Dx52L mm 12V with 64 CPR Encoder (No End Cap)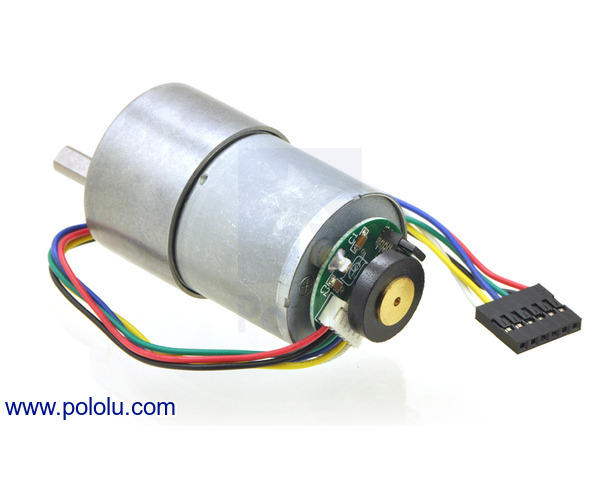 Note: This gearmotor has been replaced by a functionally identical version with a protective end cap over the encoder.

This gearmotor is a powerful 12V brushed DC motor with a 30:1 metal gearbox and an integrated quadrature encoder that provides a resolution of 64 counts per revolution of the motor shaft, which corresponds to 1920 counts per revolution of the gearbox's output shaft. These units have a 0.61"-long, 6 mm-diameter D-shaped output shaft. This gearmotor is also available without an encoder.

Key specs at 12 V: 350 RPM and 300 mA free-run, 110 oz-in (8 kg-cm) and 5 A stall.
Alternatives available with variations in these parameter(s): gear ratio Select variant…
- 3 September 2015

Zippy is an RC balancing robot created by Larry McGovern. It uses an Arduino Nano to read pulses from an RC receiver and accelerometer and...

- 22 July 2014

TwoPotatoe is a customer-built balancing robot that in its latest form uses an Arduino Mega to receive commands from a custom-made controller via...

- 21 September 2012

This balancing robot by Kristian Lauszus uses two 37D metal gearmotors with encoders that are mounted with gearmotor brackets and driven with a...