Pololu 42×19mm Wheel and Encoder Set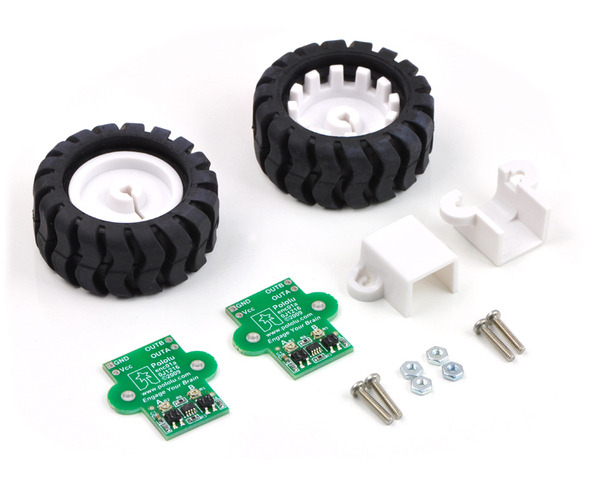 Discontinuation notice: We have released a newer encoder solution for our micro metal gearmotors that provides many more counts per revolution and does not put any restrictions on the gearbox output shaft. This older encoder set is now only available by large-volume special order; please contact us for more information.
This set is intended for those looking to create a differential-drive robot with dual quadrature encoders. Just add two micro metal gearmotors of your choosing (sold separately), a mounting platform such as a RRC04A 5" robot chassis, and a robot controller such as an Orangutan SVP-324 (which features inputs for two quadrature encoders) to create a robot capable of closed-loop speed and position control.
This set consists of:
Four #2 mounting screws and nuts
Note: This set is designed to work with our 5:1 to 298:1 micro metal gearmotors. Motors are not included and must be purchased separately. This encoder with the 1000:1 gear ratio version of our micro metal gearmotors due to the longer gearbox.

This encoder will only work with the Pololu 42×19mm wheel. If you are looking for a higher-resolution quadrature encoder that works with micro metal gearmotors and arbitrary wheels, consider the magnetic encoder pair kit for micro metal gearmotors. We also have versions of our larger 25D mm and 37D mm metal gearmotors with integrated quadrature encoders.
People often buy this product together with: