3pi+ 32U4 OLED Robot - Hyper Edition (15:1 HPCB Motors), Assembled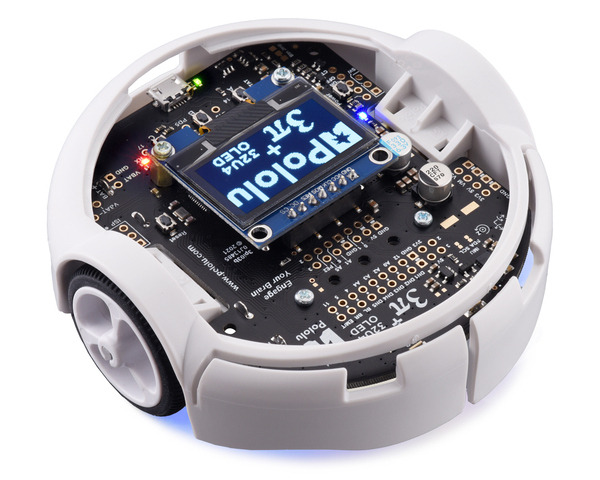 The Pololu 3pi+ 32U4 OLED robot is a high-performance mobile platform based on the Arduino-compatible ATmega32U4 MCU. Its many features include dual quadrature encoders for closed-loop speed or position control, line sensors, front bump sensors, a full IMU, and a graphical OLED display, all packed into a robot that fits in the palm of your hand. This Hyper Edition version is assembled with high-speed 15:1 HPCB 6V Micro Metal Gearmotors.
NOTE: This version is difficult to control and fast enough to damage itself from impacts, so it is only recommended for . A spare 15:1 gearbox is included.
Alternatives available with variations in these parameter(s): version assembled Select variant…

Compare all products in 3pi+ 32U4 OLED Robot or

Robot Kits without Soldering.
- 17 December 2021

This video steps through the demo program on our new 3pi+ 32U4 OLED Robot. The Pololu 3pi+ 32U4 OLED robot is a complete, high-performance mobile...

- 11 August 2021

We are very excited to announce that the 3pi+ 32U4 OLED Robot is now available! This is an updated version of the original 3pi+ 32U4 Robot that...