4.4:1 Metal Gearmotor 25Dx63L mm LP 6V with 48 CPR Encoder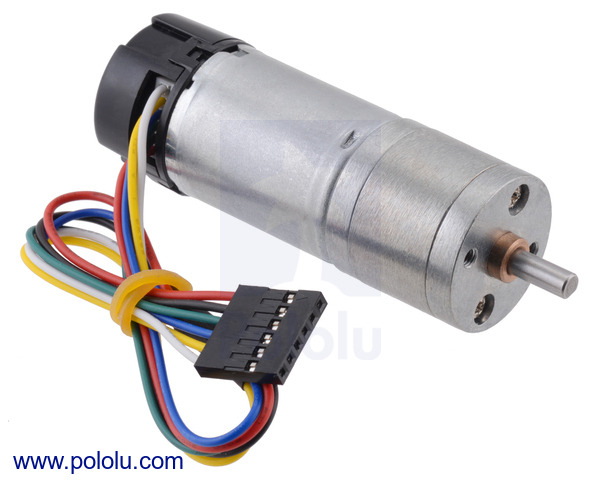 This gearmotor consists of a low-power, 6 V brushed DC motor combined with a 4.4:1 metal spur gearbox, and it has an integrated 48 CPR quadrature encoder on the motor shaft, which provides 211.2 counts per revolution of the gearbox's output shaft. The gearmotor is cylindrical, with a diameter just under 25 mm, and the D-shaped output shaft is 4 mm in diameter and extends 12.5 mm from the face plate of the gearbox. This gearmotor is also available without an encoder.
| voltage | no-load performance | stall extrapolation |
| --- | --- | --- |
| 6 V | 1300 RPM, 120 mA | 0.63 kg⋅cm (8.7 oz⋅in), 2.0 A |
Alternatives available with variations in these parameter(s): gear ratio motor type encoders? Select variant…

Compare all products in 6V Low-Power (LP) 25D mm Gearmotors.
What material is the gearbox output shaft made of, and can I get the shaft customized?

The shaft is composed of hardened stainless steel. Some customization is generally possible (e.g., different length or no D-shaft) for sufficiently high-volume orders. If this is something you are interested in, please email us.