6V High-Power Carbon Brush (HPCB) Micro Metal Gearmotors
These micro metal gearmotors have high-power, 6 V motors with a stall current of 1.5 A and a typical free-run current of 100 mA. They use the same motors as the 6V HP versions, but they feature long-life carbon brushes instead of precious metal brushes.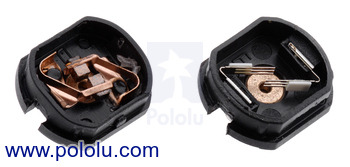 Micro metal gearmotor HPCB long-life carbon brushes (left) next to micro metal gearmotor HP precious metal brushes (right).
The following table shows all of the versions available with the HPCB 6V motor:
Note: Stalling or overloading gearmotors can greatly decrease their lifetimes and even result in immediate damage. The recommended upper limit for instantaneous torque is 2.5 kg-cm (35 oz-in) for the 380:1 and 1000:1 gearboxes, and 2 kg-cm (25 oz-in) for all the other gear ratios; . Stalls can also result in rapid (potentially on the order of seconds) thermal damage to the motor windings and brushes, especially for the versions that use high-power (HP and HPCB) motors; a general recommendation for brushed DC motor operation is 25% or less of the stall current.
Versions with other motors are also available. You can use the following selection boxes to choose from all of our micro metal gearmotor versions:
Alternatives available with variations in these parameter(s): gear ratio motor type extended motor shaft? Select variant…

Compare all products in this category
Products in category "6V High-Power Carbon Brush (HPCB) Micro Metal Gearmotors"