Parallax (Futaba S148) Continuous Rotation Servo #900-00008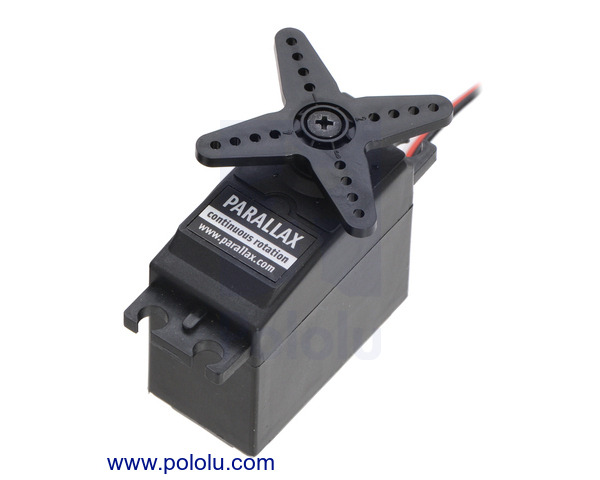 The Parallax continuous rotation servo is a Futaba S148 servo that has been modified for continuous rotation. Since servos have their own integrated control circuitry, this unit gives you an easy way to get your robot moving.

Key specs at 6 V: 50 RPM (no-load), 38 oz-in (2.7 kg-cm), 43 g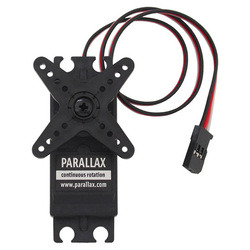 Parallax (Futaba S148) continuous rotation servo.
Overview
The Parallax (Futaba S148) continuous rotation servo converts standard RC servo position pulses into continuous rotation speed. It can be controlled directly by a microcontroller without any additional electronics, which makes it a great actuator for robotics projects. The servo includes an adjustable potentiometer that can be used to center the servo and comes with a star-shaped servo horn and an 11″ (270 mm) lead.
Specs
Power: 4.8 – 6 V
Top 6 V speed: 50 RPM (with no load)
Torque: 2.7 kg-cm/38 oz-in at 6 V
Weight: 43 g/1.5 oz with servo horn and screw
Size (L x W x H): 40.5 mm x 20.0 mm x 36.1 mm / 1.60" x 0.8" x 1.42"
Control interface: RC servo pulse width control, 1.50 ms neutral
Manual adjustment port
This servo is compatible with our servo controllers and our servo wheels and sprockets. This servo is also compatible with our Mounting Bracket for Standard-Size Servos:
Continuous rotation servo comparison

Continuous rotation servo size comparison. From left to right: SpringRC SM-S4303R, Power HD AR-3606HB, FEETECH FS5106R, Parallax Feedback 360°, Parallax (Futaba S148), and FEETECH FS90R.
6 V
4.8 V
Weight (g)
Size (mm)
Direction
vs pulse
(1ms → 2ms)
Digital?
Feed­back?
Price
Max speed
(RPM)
Stall torque
(oz·in)
Max speed
(RPM)
Stall torque
(oz·in)
SpringRC SM-S4303R
54
71
43
46
41
41.3 × 20.7 × 40.2
CW→CCW

$15.95

SURPLUS SpringRC SM-S4303R 2-Pack
54
71
43
46
41
41.3 × 20.7 × 40.2
CCW→CW

$19.95

for a pair of servos
FEETECH FS5106R
95
83
78
70
39
40.8 × 20.1 × 38.0
CW→CCW

$15.95

Parallax Feedback 360°
140
35
–
–
41
40.0 × 20.0 × 37.2
CW→CCW

$27.99

FEETECH FT90R
135
21
108
18
9
22.9 × 12.1 × 26.5
CW→CCW

$8.95

FEETECH FS90R
130
21
100
18
9
22.5 × 12.1 × 23.4
CW→CCW

$5.95
People often buy this product together with: