Solarbotics SW-LB BLUE Servo Wheel with Encoder Stripes, Silicone Tire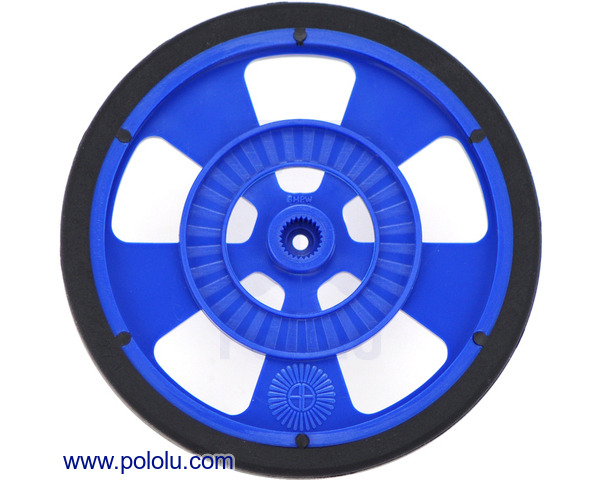 This 2-5/8" plastic servo wheel fits on standard Futaba servos and has a diameter of 2-5/8". Each wheel has a silicone tire and 64-stripe encoder pattern molded in.
The Solarbotics SW wheel is compatible with standard Futaba servo hubs such as those on the SpringRC SM-S4303R and Power HD AR-3606HB continuous rotation servos. The plastic wheel is molded from ABS and has a molded-on thermoplastic silicone tire with great traction and wear characteristics. There is a 64-strip encoder pattern on one side of the wheel compatible with the Wheel Watcher. The plastic wheels measure just under 2-5/8" (69 mm) across by 0.3" (7.62 mm) wide and are available in blue, yellow, red, and black.
Note: This Futaba servo wheel does not come with any mounting hardware. To mount the wheel, use the screw included with your servo.
Feature Summary
Diameter: just under 2-5/8" (69 mm)
Tire width: 0.3" (7.62 mm)
Tire: molded-on thermoplastic silicone
Encoder stripes: 64-strip pattern molded in on one side (compatible with the Wheel Watcher)
Installation
To install the wheel, remove the screw on your servo's output shaft, push the wheel onto the shaft, and reinstall the screw. For some servos, such as the SpringRC SM-S4303R, the wheel might be a tight fit and not push onto the servo output shaft. In such cases, please try the method shown in this video:
Some Compatible Products
Lower-Cost Options
For a lower-cost, similar wheel with fewer features, see the 2-5/8" plastic Futaba wheels.


People often buy this product together with: