Mounting Bracket for Standard-Size Servos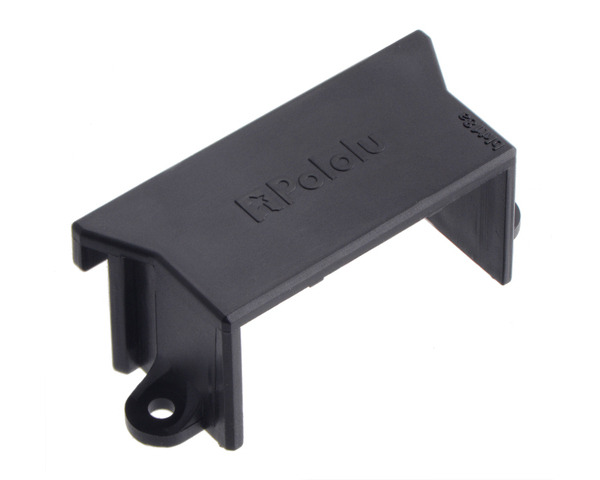 This plastic bracket provides a convenient way to mount standard-size servos with a side flat to a surface.
Overview
| | |
| --- | --- |
| Rear view of Power HD Continuous Rotation Servo AR-3606HB and Solarbotics red servo wheel with Mounting Bracket for Standard-Size Servos. | Power HD 1501MG servo with Mounting Bracket for Standard-Size Servos. |
Compatibility warning: In November 2018 FEETECH changed the cases of some of their servos, making them no longer compatible with this servo mounting bracket. They will be switching back to the original case style, which will resolve this problem for future batches, but at this time the servos listed below might not work properly with this bracket: • FEETECH Standard Servo FS5103B • FEETECH Standard Servo FS5103B-FB with Position Feedback • FEETECH Standard Servo FS5106B • FEETECH Continuous Rotation Servo FS5106R The modification changed the location of the wires coming out of the servo, so the bracket would no longer fit. It is possible to permanently modify the bracket to work by cutting a notch out of it with a rotary tool or a pair of diagonal cutters, but do so at your own risk as it could damage the bracket.
This plastic mounting bracket is designed for use with standard-size servos like the Power HD AR-3606HB continuous rotation servo and the FEETECH FS5103B standard servo. By clasping around the servo and capturing its mounting tabs, this bracket provides an easy way to mount a servo on its side. The mounting holes on the bracket are intended for use with M3 or #4-40 screws (not included). This bracket works with most standard-size servos, including all the ones in this page's related products list. Please note that the mounting tabs on some servos are too thick to fit in the bracket without modification, so we recommend comparing your servo's dimensions to the bracket's dimensions below.
Dimensions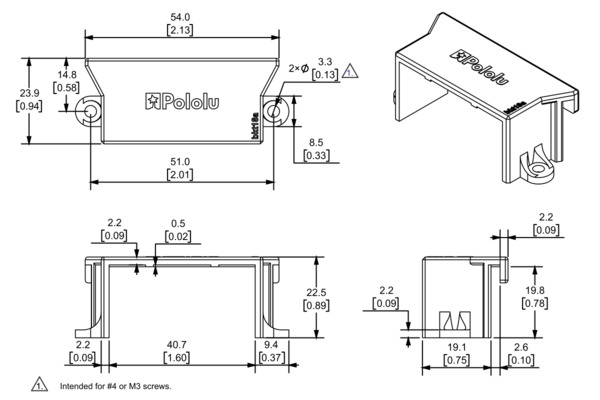 Dimension diagram of the Mounting Bracket for Standard-Size Servos. Units are mm over [inches].
This diagram is also available as a downloadable PDF (245k pdf)
People often buy this product together with: