2-5/8" Plastic Red Wheel Futaba Servo Hub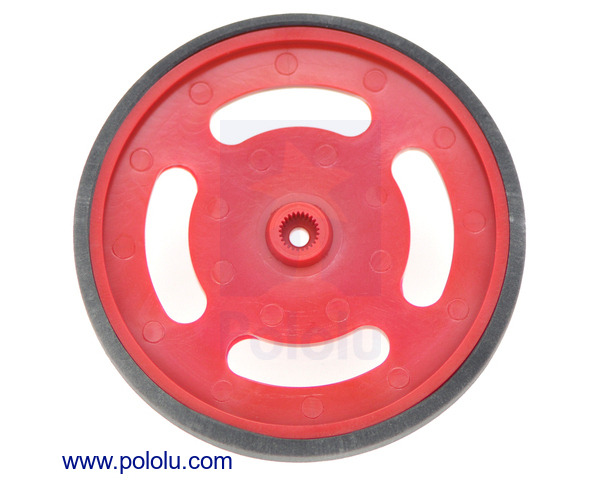 This plastic servo wheel is made specifically for standard Futaba servo splines (25T, 5.8 mm diameter) and has a diameter of 2-5/8″. Each wheel comes with a pair of black rubber bands: the tire and a spare. These wheels are sold individually, NOT in pairs.
Alternatives available with variations in these parameter(s): color Select variant…
New alternatives available! We have released our own servo wheels that we recommend over this product. In particular, our 70×8mm Wheel for Standard Servos has almost the same dimensions as this wheel (see the picture below for a side-by-side comparison).
This plastic Futaba servo wheel is made to match standard Futaba servo splines (25T, 5.8 mm diameter), such as those on the SpringRC SM-S4303R and Power HD AR-3606HB continuous rotation servos. The wheel is molded from ABS and measures just under 2-5/8″ across by 0.3″ wide. With the included rubber band tire, the total wheel diameter is 2-5/8″. The wheel is available in blue, yellow, red, and black.
Our 60×8mm/70×8mm tires for Pololu wheels also fit this wheel, making them a suitable replacement for when the rubber band tires are worn from use. The Pololu tires also have grooves cut into them along the perimeter of the tire, which might help by providing a better grip in certain applications.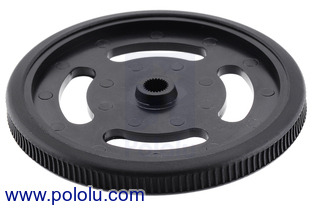 Silicone Tire for 60×8mm/70×8mm Pololu Wheels attached to a 2-5/8″ Plastic Black Wheel Futaba Servo Hub.
Included Parts
One wheel
Two rubber band tires (one is a spare)
Installation
To install the wheel, remove the screw on your servo's output shaft, push the wheel onto the shaft, and reinstall the screw. For some servos, such as the SpringRC SM-S4303R, the wheel might be a tight fit and not push onto the servo output shaft. In such cases, please try the method shown in this video:
Newer Versions
For a version of this robot servo wheel that has molded-on silicone and built-in encoder stripes, see the Solarbotics SW servo wheels with encoders.


Note: The Futaba servo wheel does not come with any mounting hardware. To mount the wheel, use the screw included with your servo.
People often buy this product together with: