70:1 Metal Gearmotor 37Dx54L mm 12V with 64 CPR Encoder (No End Cap)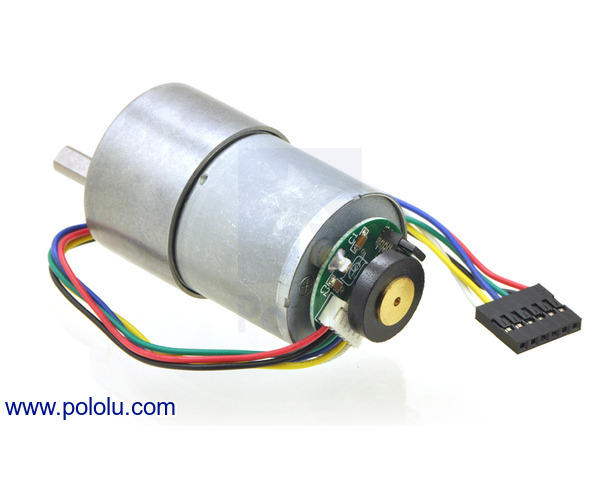 Note: This gearmotor has been replaced by a functionally identical version with a protective end cap over the encoder.

This gearmotor is a powerful 12V brushed DC motor with a 70:1 metal gearbox and an integrated quadrature encoder that provides a resolution of 64 counts per revolution of the motor shaft, which corresponds to 4480 counts per revolution of the gearbox's output shaft. These units have a 0.61"-long, 6 mm-diameter D-shaped output shaft. This gearmotor is also available without an encoder.

Key specs at 12 V: 150 RPM and 300 mA free-run, 200 oz-in (14 kg-cm) and 5 A stall.
Alternatives available with variations in these parameter(s): gear ratio Select variant…
Dimensions
| | |
| --- | --- |
| Size: | 37D x 66L mm |
| Weight: | 220 g |
| Shaft diameter: | 6 mm |
General specifications
| | |
| --- | --- |
| Gear ratio: | 70:1 |
| No-load speed @ 12V: | 150 rpm |
| No-load current @ 12V: | 300 mA |
| Stall current @ 12V: | 5000 mA |
| Stall torque @ 12V: | 200 oz·in |
| No-load speed @ 6V: | 75 rpm1 |
| No-load current @ 6V: | 250 mA1 |
| Stall current @ 6V: | 2500 mA1 |
| Stall torque @ 6V: | 100 oz·in1 |
| Lead length: | 11 in |
Notes: