Orangutan SVP-324 Robot Controller (assembled)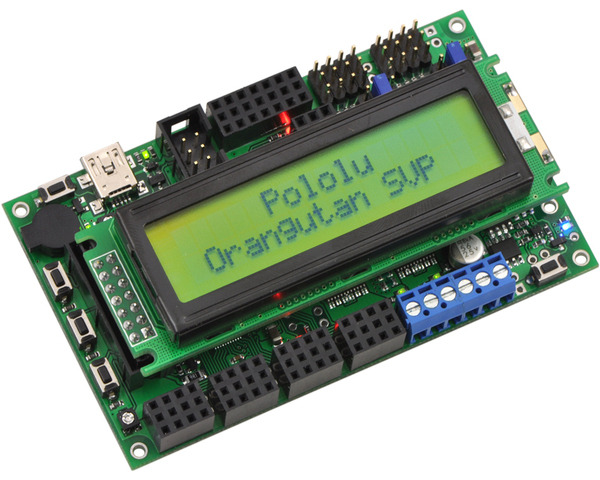 The Orangutan SVP-324 robot controller is a super-sized version of our popular Orangutan SV, with a built-in AVR ISP programmer, more I/O lines, and more regulated power. Based on the ATmega324PA AVR microcontroller (32 KB flash, 2 KB RAM, 1 KB EEPROM) and featuring higher-power dual motor drivers (2 A continuous per channel), a bigger 16×2 LCD, and a demultiplexer for easy control of up to eight servos, the Orangutan SVP makes a great starting point for your robot or electronics project.
Compare all products in Orangutan SVP Robot Controllers.
Documentation and other information
File downloads
This bundle contains all the Pololu software you need to get started programming AVRs in Windows: the Pololu AVR C/C++ Library, the Pololu USB AVR Programmer drivers and software, and the Pololu Orangutan SVP drivers. We recommend installing Atmel Studio 7.0 before installing this bundle.
This executable installer contains the drivers you need to use the Orangutan SVP in Windows.
This printable quick-reference diagram identifies all the interactive components on the Orangutan SVP, including the pins, pots, LEDs, and pushbuttons.
This is a sample AVR Studio 4 project that will blink an LED on an Orangutan SVP-324.
This is a sample AVR Studio 4 project that will blink an LED on an Orangutan SVP-1284.
A Spanish version of the Orangutan SVP robot controller user's guide, provided by customer Jaume B.
This sample program shows how to use an LSM303DLM 3D compass and accelerometer carrier with an Orangutan robot controller to build a tilt-compensated digital compass. The AVR Studio project is set up for an ATmega328P microcontroller, but it will work on other Orangutans with simple changes to the project configuration.
Recommended links
A free, open-source suite of development tools for the AVR family of microcontrollers, including the GNU GCC compiler for C/C++.
The older version of Atmel's free integrated development environment (IDE) for AVRs, which is no longer supported by Atmel.
Atmel's product page for the ATmega324PA.
Atmel's product page for the ATmega1284P.
The web site for AVR Libc, which is the standard library of functions that you can use with C and C++ on the AVR.
Documentation for GCC, including the AVR GCC C/C++ compilers.
The A-Star and Orangutan discussion section of the Pololu Robotics Forum.
AVR community with forums, projects, and AVR news.