First new products under emergency operations - new servo wheels!
Posted by
Jan
on 7 May 2020
We are into May, and after almost 8 weeks of shutdowns and emergency operations, most of the world's attention seems to be moving toward reopening and how to return to some semblance of normal, or at least longer-term sustainable operations. With no particular medical solution even on the horizon, it's clear that we have a long way to go, and a city like Las Vegas is going to be hurt especially hard and for a long time by changes people will adopt until they are comfortable flying for fun again. Pololu has managed to hold up much better than I initially feared during the first week of mandated shutdowns, and I am especially grateful to all of our customers and staff members who have worked hard to get us this far.
It is with this backdrop of gratitude for making it this far while realizing we still have a long way to go that I am especially excited to announce our first new products released since the pandemic hit!
In all, we have eight new wheels for micro and standard sized servos. These are red and white versions of the four sizes we released in black back in January. Since we are operating with a minimum staff on site, we don't have many actual pictures of the new wheels in action, so I will use the pictures with older black wheels for the rest of the post.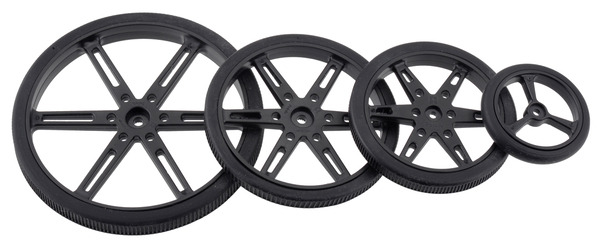 Black Pololu Wheels for Standard and Micro Servos – 90, 70, 60, and 40 mm diameters.
We have small, 40 mm and 60 mm sizes that are compatible with micro servo splines with 20 teeth and a 4.8 mm diameter and can be used with the following continuous rotation servos that we carry:
We have larger 70 mm and 90 mm sizes that are compatible with standard servo splines with 25 teeth and a 5.8 mm diameter and can be used with the following continuous rotation servos we carry:
If you plan on using the wheels with a servo not listed above, be sure to check your servo's specifications for compatibility as servo splines are not standardized.
I was never especially fond of continuous-rotation servos, but there's no denying that they're often a quick and relatively simple way to get something moving, both from the electronics side (since the motor controller is built into the servo) and the software side. I am a fan of building your own unique robots, so I am happy we now have a range of size and color choices to give you more problem-solving options and variety in your robots.
Like many of our plastic products, these wheels were designed by us in Las Vegas and then injection molded in China. Since we already had the design and molds finished before we released the black versions, these new products are not the most new from a design perspective. We made the black ones first, and red and white were supposed to follow shortly after the Chinese New Year holiday. As we all got reminded, things don't always go according to plan. And now, what should have been a minor new product has additional sentimental meaning as our first new product since the coronavirus upended our lives and a symbol of our determination to carry on.
We had been announcing new products along with introductory discounts for the last few years, and I wavered for a bit about doing extra discounts for these wheels. Shipping costs have gone up dramatically, and we're trying to raise whatever money we can, so extra discounts are not the first thing I felt like doing. But the whole point is that we do want to celebrate at least a little! So, hooray for the continuation of the new product discount tradition: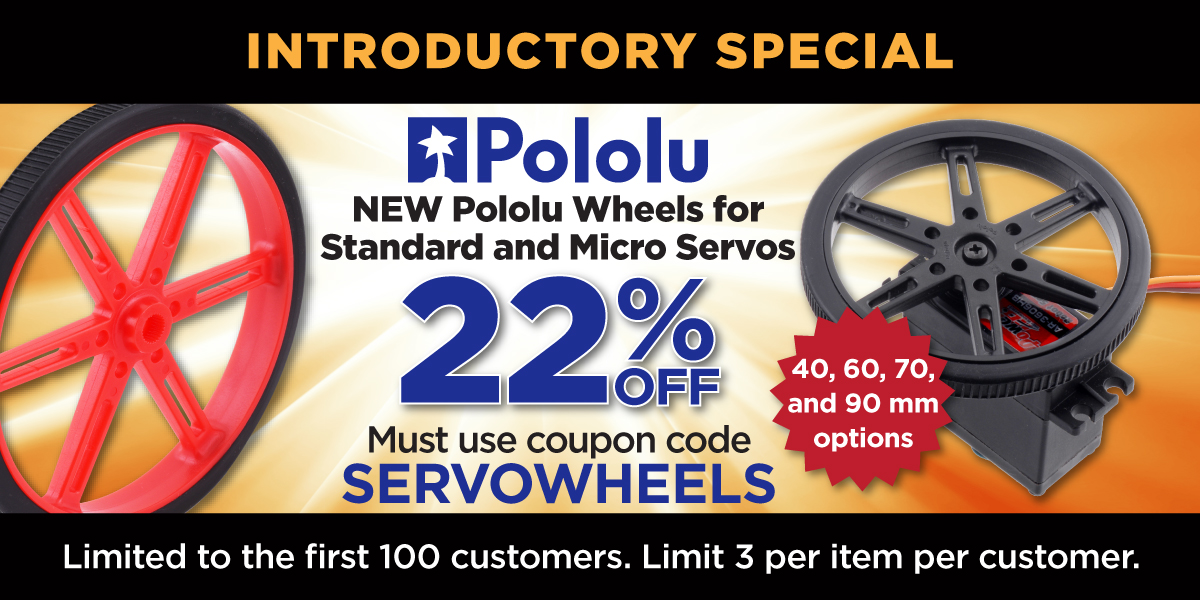 The first hundred customers to use coupon code SERVOWHEELS can get 22% off up to 3 pairs of each size! And, if you are one of the lucky ones not especially financially hurt by the pandemic and are interested in these wheels, please consider getting them without the coupon or even donating to help Pololu keep operating. We have set up item 2400 for donating in $1 increments.
Thank you to all of you who have donated to us or otherwise supported us over the past two months. Stay safe and healthy, everybody!
0 comments
Post a comment