PULSE: A pendant to warn you when you touch your face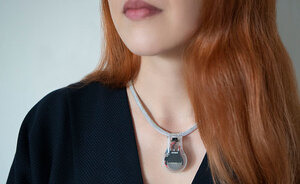 PULSE pendant by JPL.
PULSE is a 3D-printed wearable device designed by JPL that vibrates when a person's hand is nearing their face. It's based around our 38 kHz IR Proximity Sensor, and was designed to be relatively easy to reproduce (it doesn't require a microcontroller or programming, but you do need access to a 3D printer to make the case). The project is open-source hardware, with complete instructions, design files, and a full parts list available on GitHub.
These are the parts that can be purchased from Pololu:
Here's a short demo of our intern Curtis using a PULSE pendant he made himself:

You can find more information about the PULSE pendant on the PULSE website.
1 comment
Post a comment