Rethinking open source in the context of the coronavirus pandemic
Posted by
Jan
on 22 April 2020
We are into week 6 of emergency operations. Our day-to-day routines are largely unchanged from what they were last week (we continue to ship all orders on time with a reduced on-site staff), so please see my earlier posts for more details about that. After more than a month of a new normal setting in, we are striving for a balance of avoiding complacency in daily operations while planning for a future that will likely never be back to how things were a few months ago.
One of our team members passed away (probably not directly related to the coronavirus)
On the complacency front, we were reminded of the stakes when one of our employees unexpectedly passed away at the end of last week from a sudden illness that, from the limited information we have available, was not related to the coronavirus. She was not part of our reduced, on-site staff, so I last saw her in person six weeks ago, and she was in contact a few weeks ago. As the toll of the pandemic mounts, more and more of us are going to be hit increasingly personally, from losing jobs and businesses to missing out on pivotal moments like being present at a child's birth, to literally life and death experiences made even more painful by new restrictions on being with loved ones and being able to mourn.
However things play out and however bad they get, let's try to be part of making things better. We can be responsible, supportive, useful, thoughtful, helpful. Many of us are suffering, and probably the only ones not afraid are the ones too unaware to know they should feel some fear. But we can acknowledge the fear without letting it completely overpower us, and we can still look for places in our lives where we can make a difference and decide to make things better.
Rethinking open source in the context of the coronavirus pandemic
The rest of this post is about a longer-term strategy I am thinking about in response to the pandemic: moving toward more open-source projects (both for software and hardware). I would very much appreciate any thoughts and advice people have on the subject.
I wrote about open-source hardware exactly eight years ago this week. I just read it for the first time in maybe five years, and although I feel like I could have written the same thing recently, in many ways I'm a different person than I was then, with the usual progress one would hope for from living another 25% longer, supplemented with extra jolts to my system from things like my baby dying the day before he was born over five years ago and the coronavirus pandemic we have all been shocked by this year. It took me most of those five years to really be able to move on from Dez dying, and when I was locking up Pololu on the Friday a month ago after the first week of escalating government-mandated shutdowns, I really thought I might not be reopening it for weeks and that there would be little chance of Pololu surviving.
Having weathered the past five weeks of emergency operations and being one of the lucky businesses to get temporary funding via the Paycheck Protection Program (PPP loan), my outlook about Pololu making it has substantially improved, and with solvency likely assured for at least a few months, I am thinking about strategic changes for medium and long-term survival in a very different world where the future looks especially uncertain. Here are some of the changes to the world and to Pololu that make open-source projects much more compelling than eight years ago:
Longer-term changes preceding the coronavirus pandemic: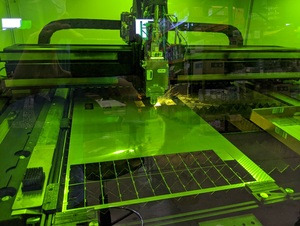 Laser cutting Zumo blades at Pololu on 22 April 2020.
Pololu's manufacturing capabilities and sophistication have improved substantially over the past 8 years. (I still believe that open-source hardware makes more business sense for those with manufacturing capability since competitive advantages would move from product design to production capability, which is more difficult to copy.)
Copies of our products and documentation and other IP have become a big problem. Even in cases where there might not have been outright fraud intended (e.g. counterfeits being falsely sold as products made by Pololu), consumers of knock-offs take up our support staff time, introduce confusion and uncertainty among customers who have genuine versions of our products, and generally dilute the value of our brand. At least for some products, it might be more pragmatic to officially open up the designs than to fight the copies.
Our brand and processes and relationships (e.g. with our distributors) and other aspects of being a successful business have grown. This gives us value and competence beyond our designs, so opening them up would be less of giving everything away and undermining our ability to remain in business.
Previously-known arguments for open source that have new weight because of the pandemic:
Given the increased likelihood that many companies will go out of business, having open-source products can give potential customers more confidence in designing our products into their own products or curriculums. Even if Pololu were to go out of business, at least our designs could get produced somewhere else with less effort than having to design in a new product.
Employees working on the products might be more motivated to work on them since continued existence of their creations would be less dependent on Pololu continuing to make them.
New arguments for open source specifically because of the coronavirus pandemic.
Pololu was not particularly well set up for remote workers. While we are working on improving the situation, security and similar concerns might add more friction that would continue to make some kinds of remote work/projects impractical. If they were instead completely open-source projects independent of Pololu, security (as far as keeping designs secret) and supporting external connections to Pololu internal systems would be less of an obstacle.
We have been soliciting donations to help Pololu survive this crisis. Potential donors might be more encouraged to donate if they had some confidence that they are supporting existence of products and designs that will continue being available even if Pololu were to stop manufacturing them.
There are now many more people out of work (whether paid or not) around the world who might be open to donating their time and expertise to help on Pololu projects.
There are now many more students at home or recent graduates without jobs or internships that could especially benefit from looking at or contributing to our designs.
The pandemic has increased awareness about potential benefits of manufacturing locally, or at least being less dependent on one region or country. Perhaps that will alleviate some of the price pressure that makes it more difficult to open up designs (if you have to compete with the cheapest place in the world to make something, it's harder to just give them your design).
In short, the heightened uncertainty about business collapses, shortage of money, and physical separation/decentralization that the coronavirus crisis is forcing on us all substantially tip the balance in favor of moving toward more open source projects in organizations like Pololu.
I would appreciate any advice or thoughts any of you have on the topic. Here a few areas you might be able to comment on:
What do you think in general?
I am considering specific product-based fundraising campaigns in which we could open up some existing products after exceeding some donation threshold; how does that sound?
Are there some existing open-source projects that you would like Pololu to start contributing to or manufacturing?
What's the latest on open source hardware, in terms of standard licenses, business models, examples, etc? (I generally feel like I hear about open source hardware less than I did 8 years ago, and that there have been some notable disappointments/sell-outs that have dampened the movement, but perhaps I just have not been paying as much attention.)

What are the best open-source software tools for electronic CAD and mechanical CAD?
Are there notable recent success stories in terms of open-source physical products?
Are there any notable examples of companies or organizations attempting to produce open-source physical products?
Thank you for your continued support, everybody! We are working hard to be worthy of it and to do our part to make things better.
9 comments
Post a comment