Coronavirus impact update: we got our PPP loan!
Posted by
Jan
on 13 April 2020
We are still shipping all orders
After almost a month of emergency operations, during which we have continued to ship all orders, our Paycheck Protection Program (PPP) loan came through, which should buy us at least another several months of continued operation! I will get to more about that later in this post, but first, here is a summary of how we have gotten this far:
22 March 2020 – initial COVID-19 impact update and appeal for donations after the first week of emergency operations, when I thought complete shutdown of Pololu operations was imminent.
29 March 2020 – update after two weeks:
6 April 2020 – update after three weeks:
PPP loan extends our ability to keep operating at least a few months!
The main big news for us is that our Paycheck Protection Program (PPP) loan went through, which should guarantee that we can meet our minimal expenses for at least a few months even if we had to completely stop operations in Las Vegas. This also gives us some breathing room to plan a month or two down the road instead of just day to day or week to week. One of the main questions facing us regarding the loan is how much of it will remain a loan and how much might be forgiven. It looks like our options range somewhere between these two extremes:
Continue keeping expenses to a minimum. This might reduce how much of the debt is forgiven, so we'd get hit by big loan repayments starting in about six months. On the plus side, we'd at least have the money to work with. And if some longer-term disaster recovery loan comes through and could absorb this loan, that would at least stretch out how quickly we have to repay the money. As it stands, everything would have to get repaid within about two years.
Spend as much of the money as possible (on qualifying expenses, mostly payroll). This might get more of the debt forgiven, which is obviously a plus. On the other hand, we'd be out of money sooner, with no guarantee of when we might be able to get more. And it would be especially bad to end up with the money spent but still be on the hook for repaying it.
The exact rules for what will be forgiven are still getting clarified, so this is adding yet another level of uncertainty that makes any decision making difficult. Still, after four weeks of scrambling to have a plan for the next day and then the next week, it feels like a luxury to be able to even be talking about next month, even if we do not know when more people will be able to start going back to work again.
What's clear is that while a loan might buy us some short-term time, we still need to figure out a way to operate profitably with the various restrictions that are likely to stay with us even as states and countries begin reopening their economies.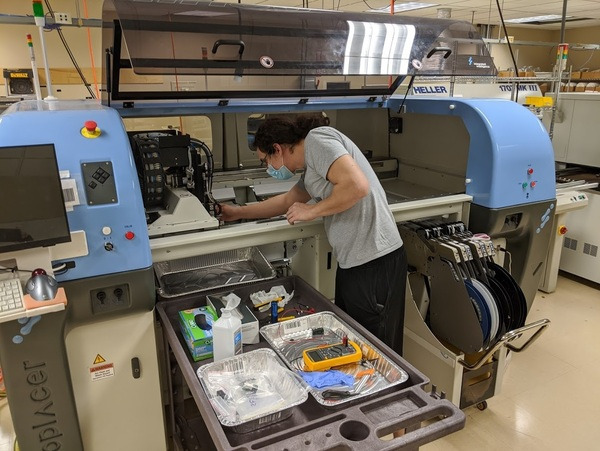 Pick and place machine maintenance, 9 April 2020.
Thank you for your continued donations 🙏
I am very grateful for the donations that continue to come in. There are too many for me to respond to individually, even for those of you I know! So, sorry I am not able to say so individually, and please know that I do see them coming in and that it means a lot. They have helped us get through the first rough month, where there were days (especially early on) where I really thought Pololu would not be able to make it through. I know it cannot be part of the long-term plan, but given the extraordinary time we are going through, every bit helps to give us a bit more time and a bit more encouragement.
If you can, please consider donating to help Pololu make it through this challenging time and to emerge stronger than ever. We have set up item 2400 for donating in $1 increments.
Other ways you can help (mostly copied from last post):
Pay now, ship later
We have added a feature to our online checkout system to allow for orders to be placed with a "pay now, ship later" option that lets you authorize us to charge the payment for an order as soon as it comes in, possibly well ahead of when the order would actually ship. We started working on this feature at a time when we thought complete shutdown of our operations was imminent, when it might have been weeks or even months before we could reopen. As I wrote at the top of this update, we have been able to ship all orders, and I expect to continue shipping, but this option still allows us to prioritize shipments and reduce stress with orders that come in later in the day and can get shipped the next day. We have already received dozens of orders with this option selected, and it is also encouraging just to see that our customers are trying to help us out. Thank you to all of you who have selected that option!
Order non-soldered versions of products, or the higher-stock versions
We offer a few of our products with some of the optional (but usually used) through-hole connectors soldered in. If you are able to solder, please consider ordering the non-soldered versions if there is plentiful stock of them. We do all of the through-hole soldering by hand, and most of our manual assemblers were older or otherwise in the higher-risk population for COVID-19, so they are not currently working here. And if you're at home doing a non-critical project, now is a good time to do a little extra soldering, right?
On a related note, it's a little bit easier for us if you order the item that has more stock. Each product page has links to relevant parametric comparison tables that can help you identify similar products that might have more available stock: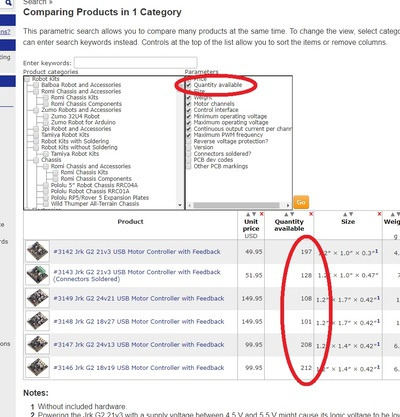 You can check available quantity of similar products on the parametric comparison table.
If your application could get by with either an item of which we have 300 in stock or one of which we have 12 units, please get the product that we have much more of. It's probably a more popular version that we make more often, and it keeps the less popular version available for those who might really need it.
Help each other on our forum
We have had to severely cut back on our technical support. If you are one those people with extra time on your hands now and are familiar with any of our products, please consider helping out our other customers on our forum.
Ask others to help us out
If you know anybody that could afford to help us out, please let them know and ask them to contribute.
Other suggestions and ideas
Part of the reason I have been going into more details in some areas of these updates is so you might be able to better give us advice about how we could make things better. Maybe you're also working at a small business facing similar challenges, and you have some good suggestions. Maybe your uncle has a vacant building nearby. One suggestion I've heard repeatedly is about gift certificates, which we are looking into; if you know of particularly good ways of implementing that or things to be careful about, please let us know.
Thank you all for your support. Stay safe and healthy, everybody!
0 comments
Post a comment