COVID-19 impact update: still hanging on after three weeks
Posted by
Jan
on 6 April 2020
Monday, 13 April 2020 update – we got our PPP loan!
After 3 weeks of emergency operations, we are still shipping all orders!
Today, April 6, marks the beginning of our fourth week of emergency operations. We are still hanging on, and it looks like we will be able to maintain operations similar to those of the past three weeks (i.e. continue shipping all orders with a minimal staff on site) at least through the end of April, by which point I hope some of the emergency loans we have applied for might start coming in.
Today I am just posting some quick updates about frequently asked questions; please see my last two posts for more information about how we are coping with the coronavirus emergency:
22 March 2020 – initial COVID-19 impact update and appeal for donations after the first week of emergency operations, when I thought complete shutdown of Pololu operations was imminent.
29 March 2020 – update after two weeks, with a few sections:
6 April 2020 – this post
Thank you for your continued donations 🙏
We are very grateful for the many donations that continue to come in. As we trim our expenses, those donations become a larger fraction of what we need to get by. I know it's asking so much for donations with no strings attached, and it means a great deal at a time when we are scrambling to make ends meet. To the many of you making us special proposals and suggestions, thank you and please keep them coming. We do not have the resources now to reply to them individually, but they do affect what we are considering offering and how we continue to operate.
If you can, please consider donating to help Pololu make it. We have set up item 2400 for donating in $1 increments.
Please help reduce overwhelming workload (for those of us who can work)
We are especially grateful for any routine orders that do not require special considerations. We are also happy to help with emergency orders involving efforts to fight the pandemic. For smaller, non-emergency inquiries, please understand that we are trying to maintain most of our usual operations with a much more limited staff while having to take on a lot of extra work (new HR issues for navigating layoffs vs. waiting for possible stimulus funds, coming up with new operating/safety procedures, rerouting incoming and outgoing packages among constantly changing rules for each country and carrier, etc.). Please help us reduce our workload by cutting back on non-critical inquiries. For regular orders, prices and stock are all on the web site. Tracking numbers are included in shipment confirmation emails. Invoices are available on the website when you log in. For technical support, please consider our forum.
Emergency loan updates
One of the most common questions or recommendations we get is about applying for emergency loans. We applied for an SBA economic injury disaster loan (EIDL) almost two weeks ago and followed up with the $10k advance application provided by the new CARES Act. We have been working with our bank all weekend to apply for the new Paycheck Protection Program loan, the applications for which have just started becoming available. My understanding is that the SBA is also scrambling as it is suddenly charged with processing more than 10x what they usually do over the whole year over the next several weeks. We received some confirmation about the EIDL loan being received but there's been no visible progress on that, and in general, it's difficult to know what to expect in terms of if, when, and how much we might be able to receive in emergency loans.
Given that uncertainty, it is especially urgent for us to cut costs where we can and to bring in whatever money we can to keep covering basic expenses. We are definitely hoping we qualify for some assistance and that it will come soon, so we are doing everything we can to keep all those applications moving forward while also trying to maintain operations independent of any guarantee of anything coming from that.
Employee update
We received a few responses questioning our treatment of employees while asking for donations. They are far outnumbered by positive responses, and I suspect the negative responses come from people who have little appreciation of the realities of running a small business, especially amid this level of disruption. Nevertheless, I believe more people might be wondering about what we are doing, and I am proud of our response given the circumstances, so I would like to highlight what we have done so far.
Some of the responses questioned the "over half of our staff is unpaid in one way or another" phrasing. We had about 75 employees at the beginning of March, and over half of them are now either laid off, on unpaid leave, or volunteering to take a pay cut. This is just a basic reality of payroll being by far our biggest expense, and if people cannot come in to work and money stops coming in, there is nothing to pay them from. We are doing everything we can to keep Pololu in a viable state so that there is something for everyone to come back to in a few weeks or months.
Here is some of the rest of our response:
Prior to any Nevada mandates, we began staggering our workbenches, improving sanitizing procedures, and set up some employees for working remotely.
Within the first day of the Nevada governor's emergency business closure declaration, we set up an emergency forum for all employees to be able to communicate without being on site. I have been posting there almost daily to keep everyone in the loop on our operations and outlook.
We contacted all employees to make sure we had their contact information and understood their preferences about working (different people have different preferences based on their living arrangements, risk factors for COVID-19, etc.).
We are maintaining health insurance and similar benefits for everyone who had them, including paying the employees' portion for those who could not work and were out of paid time off (PTO). Some employees who were scheduled to begin getting coverage through Pololu are still getting added to our plans.
We paid out remaining PTO to those laid off.
We are maintaining PTO for those on unpaid leave and those still working.
We paid full amounts due to those still able to work (excluding those volunteering for pay cuts).
We are continuing safety assessments for on-site operations, including providing face masks for all on-site staff.
We are working on improving remote connection and work capability.
Pictures of life at Pololu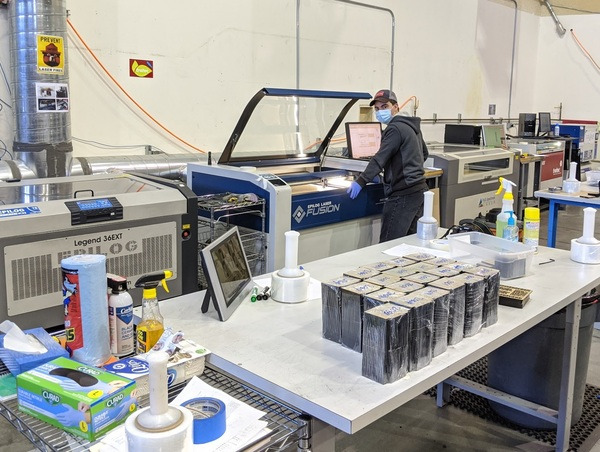 Pololu laser cutting department on 6 April 2020.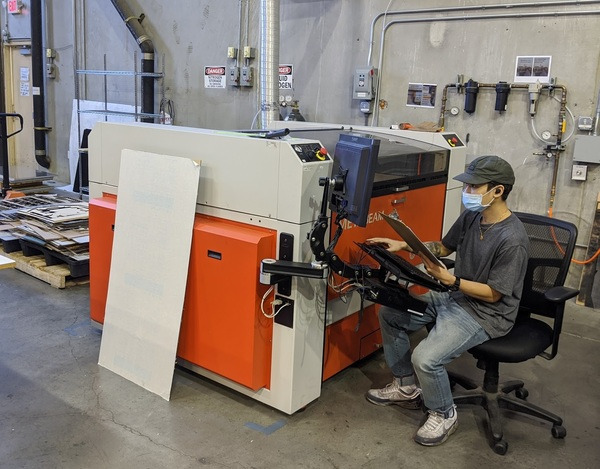 Pololu laser cutting department on 6 April 2020.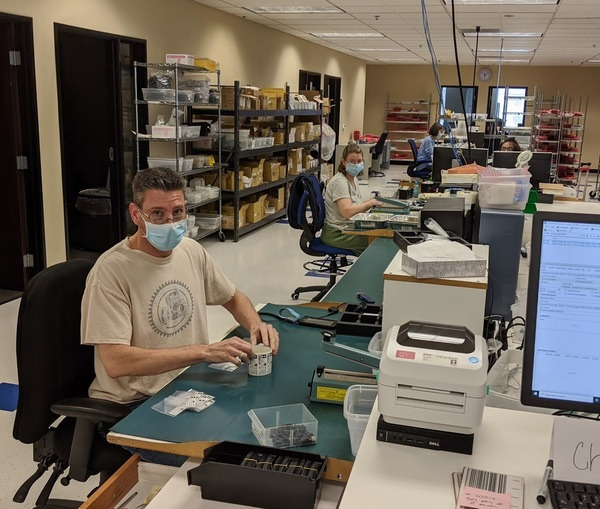 Pololu packaging department on 6 April 2020.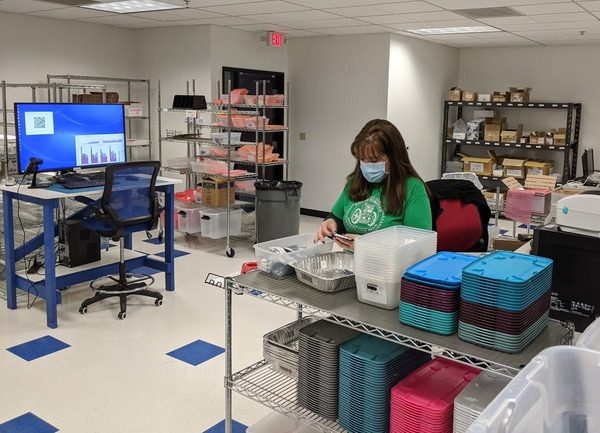 Pololu quality control on 6 April 2020.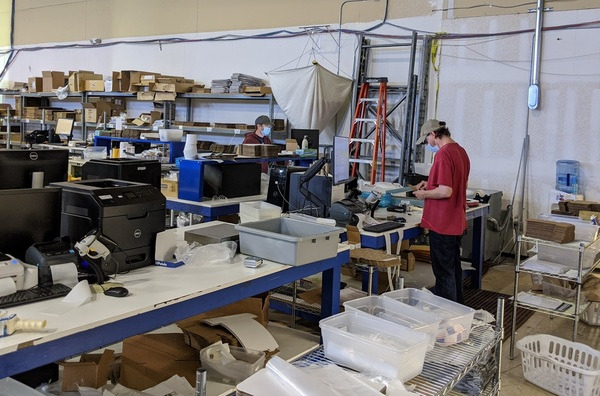 Pololu shipping department on 6 April 2020.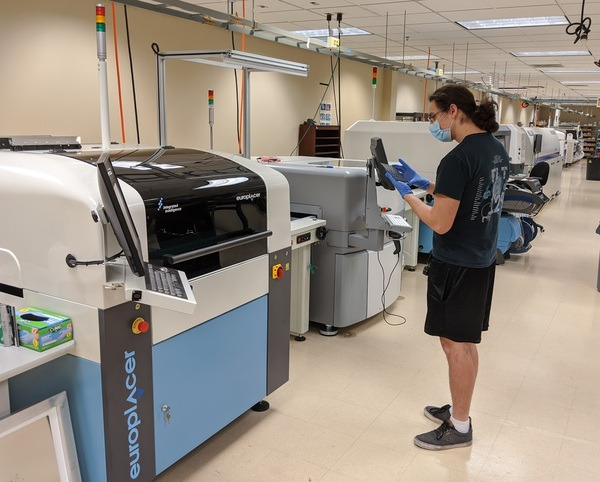 Pololu SMT pick and place production line on 6 April 2020.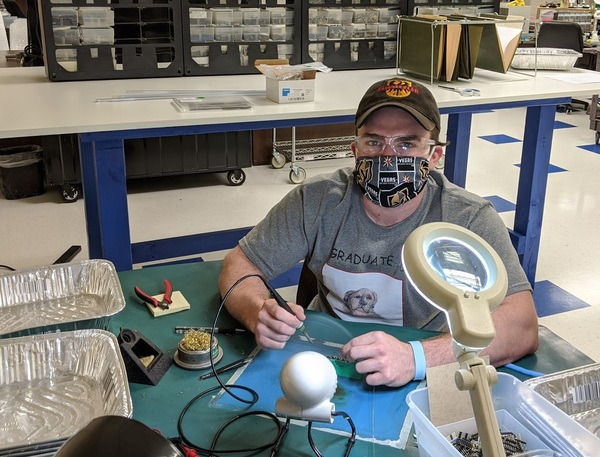 Soldering at Pololu on 6 April 2020.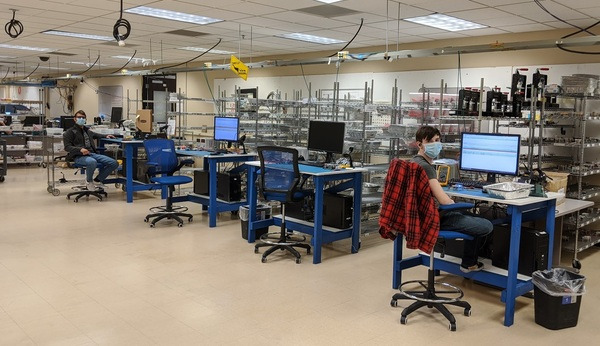 Pololu testing department on 6 April 2020.
How you can help
Make a donation
If you can, please consider donating to help Pololu make it. We have set up item 2400 for donating in $1 increments.
Pay now, ship later
We have added a feature to our online checkout system to allow for orders to be placed with a "pay now, ship later" option that lets you authorize us to charge the payment for an order as soon as it comes in, possibly well ahead of when the order would actually ship. We started working on this feature at a time when we thought complete shutdown of our operations was imminent, when it might have been weeks or even months before we could reopen. As I wrote at the top of this update, we have been able to ship all orders, and I expect to continue shipping, but this option still allows us to prioritize shipments and reduce stress with orders that come in later in the day and can get shipped the next day. We have already received dozens of orders with this option selected, and it is also encouraging just to see that our customers are trying to help us out. Thank you to all of you who have selected that option!
Order non-soldered versions of products, or the higher-stock versions
We offer a few of our products with some of the optional (but usually used) through-hole connectors soldered in. If you are able to solder, please consider ordering the non-soldered versions if there is plentiful stock of them. We do all of the through-hole soldering by hand, and most of our manual assemblers were older or otherwise in the higher-risk population for COVID-19, so they are not currently working here. And if you're at home doing a non-critical project, now is a good time to do a little extra soldering, right?
On a related note, it's a little bit easier for us if you order the item that has more stock. Each product page has links to relevant parametric comparison tables that can help you identify similar products that might have more available stock: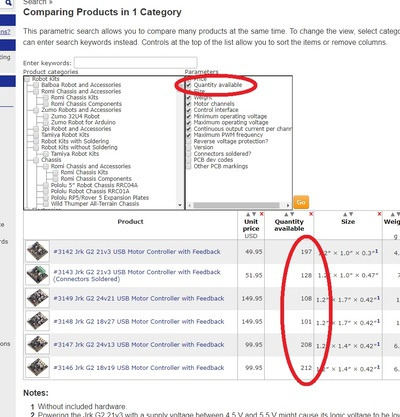 You can check available quantity of similar products on the parametric comparison table.
If your application could get by with either an item of which we have 300 in stock or one of which we have 12 units, please get the product that we have much more of. It's probably a more popular version that we make more often, and it keeps the less popular version available for those who might really need it.
Help each other on our forum
We have had to severely cut back on our technical support. If you are one those people with extra time on your hands now and are familiar with any of our products, please consider helping out our other customers on our forum.
Ask others to help us out
If you know anybody that could afford to help us out, please let them know and ask them to contribute.
Other suggestions and ideas
Part of the reason I have been going into more details in some areas of these updates is so you might be able to better give us advice about how we could make things better. Maybe you're also working at a small business facing similar challenges, and you have some good suggestions. Maybe your uncle has a vacant building nearby. One suggestion I've heard repeatedly is about gift certificates, which we are looking into; if you know of particularly good ways of implementing that or things to be careful about, please let us know.
Thank you all for your support. Stay safe and healthy, everybody!
Monday, 13 April 2020 update – we got our PPP loan!
3 comments
Post a comment