Coronavirus impact update: still shipping all orders
Posted by
Jan
on 29 March 2020
Quick summary: Pololu has filled all orders and continues to operate, including shipping products to important customers fighting COVID-19 around the world. Thank you for all of your help and donations, which are really making a difference. We are preparing for extended operations under emergency conditions and evaluating all available avenues for support. Cash donations remain the most useful and immediate way to help, but there are other ways you can help us. Donate here.
Please see new update posted Monday, 6 April 2020.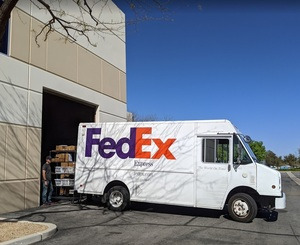 Still shipping, 30 March 2020.
It has been a week since I posted about Pololu's dire circumstances brought about by the new coronavirus pandemic. My outlook today is much more positive than it was back then, in large part thanks to the support we have received during the past week. We are by no means out of the woods yet, as a company, as a country, and as a planet. I write today's post to provide an update on how we are doing, to try to address the questions I am getting repeated from many people, to share our general outlook for moving forward, and to renew my appeal for help in any way possible. Since there are many topics that might be of varying degrees of interest to each of you, I will try to organize this with more sections and headings:
We are still operating and have shipped every order!
We have operated for eight business days now with a skeleton crew of approximately 20 staff members on site and 10-20 more people assisting via remote connections from home. We have shipped every order for in-stock items that has been placed during that time, and we have limited production capacity for special orders beyond what is in stock.
We have had no new local business shutdown orders that would affect us since Friday the 20th, and we have received dozens if not hundreds of customer requests and certifications from customers that have been declared essential businesses or services within their jurisdictions, and as suppliers to those organizations, we are essential by extension as well. We also continue to get many confirmations of our products and services (e.g. laser cutting) being used directly in the response to the COVID-19 pandemic, so we will keep shipping orders as long as delivery services keep operating.
You can see available stock for each product live on our website, and if your order consists of just in-stock items, we should be able to ship your order within a day.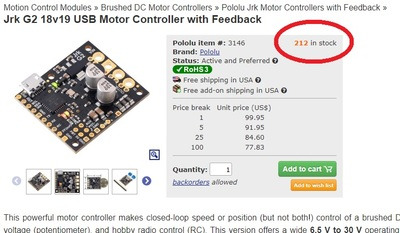 Available stock is shown on each product page.
Each product page has links to relevant parametric comparison tables that can help you identify similar products that might have more available stock: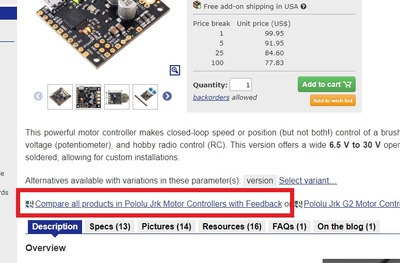 Each product page has links to relevant parametric comparison tables.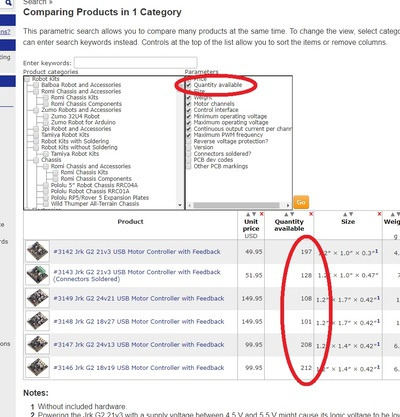 You can check available quantity of similar products on the parametric comparison table.
Our China facility in Shenzhen is also partially operational, and we are able to ship some special volume orders directly from there. The available shipping carriers and destinations are changing day by day as countries respond to the pandemic, but we are working with customers to route critical orders as quickly as possible. Please note that all of our electronics products are manufactured at our Las Vegas, Nevada, USA facility, so shipments directly from China are only available for select products, mostly motors and other mechanical components that we have machined or injection molded there.
We also have hundreds of distributors around the world that might be operational and have stock closer to you. We will be working with them in the coming days to update the distributors page with information about those businesses confirmed to still be in operation.
Thank you to everyone who has donated!
We have received thousands of dollars in donations since my original post. I have tried to send at least a few personal thank you emails every day, but there have been more donations than I can keep up with. It is extremely motivating to see the breadth of donations we are receiving from all over the world, from customers we haven't heard from in a long time, to family members of employees, to former employees, to people that, as far as we can tell, have had no previous association with Pololu. To all of you whom I have not thanked yet individually, thank you!!! I am making sure everyone at Pololu knows about your support. The value of the money we receive in donations is multiplied both by the psychological boost it gives us and by getting factored into various lines of credit that we have available to us that are automatically calculated based on the rolling average revenue appearing in our accounts.
Several Pololu employees who are part of our continuing operations have volunteered reductions in their own pay so that we might conserve our limited cash on hand and continue payments and insurance for those employees that are most in need. PT from Adafruit also responded to my call for help and gave me some useful perspective and helped spread the word about our situation even as Adafruit conducted its own emergency operations out of New York, the US epicenter of the coronavirus outbreak.
The donations and support are all the more meaningful at a time like this, where nearly everyone is impacted and the future so uncertain.
If you can, please consider donating to help Pololu make it through this difficult time. You can use item 2400 to donate in $1 increments. I will also post other ways you can help us at the end of this update.
Updates about common questions
Landlord and building situation
After payroll, the building rent is our biggest expense and obligation, so I of course reached out to my landlord right away to see what their position was. Unfortunately, the building we are in was just sold in the last 6 months, so we do not have the long working history we had with the previous landlord. I am posting a little more detail here than I would normally be comfortable with, but we are in an extraordinary emergency and I am hearing the same questions and suggestions from multiple people, so I want to share this information because I believe it could be useful in getting us help and advice.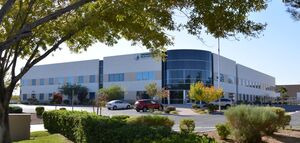 We are the only tenant in a building that is approximately 86,000 square feet. The building had been vacant, I think for years, after the previous economic downturn, and we moved in here at the end of 2011, taking part of the first floor. In 2013, the landlord received an offer for the second floor. It was a time when we were growing rapidly, and the building was not at all well set up for sharing with multiple tenants, so we made the owner an offer for the space and reached an agreement that was expensive but affordable for us and at a lower rate for the landlord than the competing offer but without the need to do any new construction. Over the next several years, we agreed to extensions in the lease and a gradual takeover of the remainder of the first floor, so that we would officially have the building to ourselves and the landlord could stop looking for other tenants to fill the remaining space.
In 2018, we negotiated a new extension of the lease. The building was still in its as-is state from 2009 or whenever the previous tenants moved out, and it was a particularly impractical floorplan based on the previous tenant's operations. The landlord preferred putting some money into renovating the space and increasing our rent over keeping the rent at a bare minimum, and so even though our cost went up again, we were getting a more usable space with plenty of room for growth at still a decent total cost. The renovations took longer than expected and ran through most of 2019. Some kind of family change caused the landlord to unexpectedly have to sell the building, which got us to where we are today: with a new owner, in a building that is bigger than we need but well set up for us, and with what I think is a pretty good rate.
The new landlord thinks it's an incredibly good rate and thinks the market rate (of course before this pandemic hit) should be closer to double what we are paying now. We have more than four more years left on our lease, and from his perspective, he might even prefer us to be out of the building. I suspect he has dozens or even more tenants from all over suddenly asking for reductions or notifying him that they won't be able to make rent, and given his view of what we are paying relative to what the space is worth, we are going to be low on the list of tenants he wants to make special exceptions for. So for now, if we believe we can be back to full operation in the next few months and then resume the growth path we were on, it is very important for us not to give the landlord any pretext for evicting us. I realize some of what he told me might be for negotiation, but I believe he was generally up-front with me. (And I've been using the singular "owner" or "landlord" or "he" for the landlord in both the current and previous landlord cases, but really I am talking about my contacts for the ownership groups.)
I related the history of how we got here so that people who know more about this kind of thing might be able to give me better advice and so that people who look at some of the pictures I am posting don't feel that we are wasting money on an extravagant work space. Yes, we could fit our current operations into a 50,000 square foot space. But building rent agreements can be quite long-term, and with the amount we have invested in equipment and improvements here, moving would be very expensive, even if we could find an appropriate space. And the value of our contract depends a lot on how things play out. If there is a long-term depression that we cannot survive, the contract is an anchor that will drag us down and potentially finish us. If things get better relatively quickly, the contract protects us and gives us stability, letting us operate at a relatively good rate, without having to interrupt everything to move.
I should also make sure it's clear that I completely understand my landlord's perspective (who of course has his own mortgages and employees to keep paying), and it's good to know that he's open to arrangements that could be mutually beneficial. Perhaps some more spaces will open up as other businesses close, and if we get forced to stop operating for an extended period of time, that interruption might also be a good time to move. For the time being, though, I think we just need to hang on for a few months, and if that is the case, we have to keep paying the full rent.
Stimulus bill and SBA disaster loan
After days of trying on the overloaded SBA disaster loan website, we got our loan application submitted at 2:30AM on Tuesday. It's not clear how long it will be before there is some progress with that or how much assistance we would qualify for.
We are also paying attention to the new stimulus bill that was just passed to see how it might apply to us. So far, it looks like it will be at least a few more weeks before the details get worked out to a level that we can do something with. The initial impression I am getting is that the way the support is structured, we might be incentivized to do things that would be bad for us if the support doesn't pan out. For example, it is paramount for us to cut back on expenditures so that we have some cash to pay the most critical bills as long as possible. That includes laying off non-essential staff right away. Yet that might reduce or even eliminate some of the support we might qualify for.
There's also a huge difference between getting a loan and that loan being forgiven. If the model for our collective response to the pandemic is that the government orders us to pause operations, then gives me money to distribute to my employees, I am happy to do my part in that arrangement. If, on the other hand, the proposal amounts to me personally being on the hook for the rest of my life to pay back a loan I took just to pay people that weren't allowed to work, that's not actually helping, and it would make more sense for those employees to just get paid directly from the unemployment aspects of the support bill.
We might also be facing a situation where the new support measures might encourage people who could be working to stay home and collect unemployment instead. So far, we have gotten by without pushing anyone who does not want to be here to be here. This will be a challenge for society in general as we all try to pause and then recover in this unprecedented situation. Many individuals want to work, but it might be better for the community if they don't, and in compensating them for preventing them from working, we might be discouraging other people whom we do need to be working.
Outlook and plan for now
The past two weeks of operation have made me optimistic that we could keep operating as we have for at least several more months. This past week was especially good because we had relative stability in how we operated, and it allowed us to spend a little time on getting ahead and start preparing for operating under these emergency measures for an extended period. A few engineers who had been working on production processes and were out the first week came in and started assessing our workflow with new distancing and isolation considerations. Having a lot of space is coming in handy, at least in terms of making it easier for people to work far apart from each other. We gathered in the same room once during the whole time, to select permanent spots in the break room: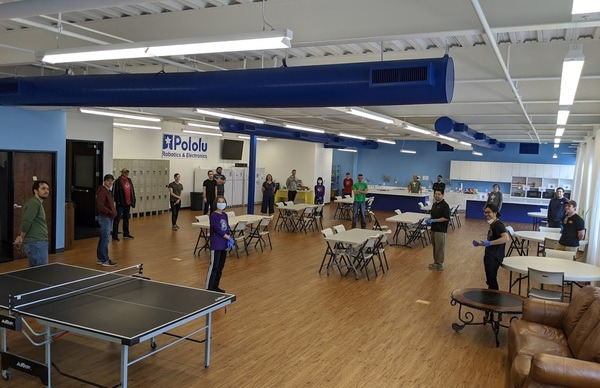 Pololu skeleton crew permanent table assignment meeting, March 2020.
(Those who have individual offices are encouraged to eat there, but in general, those are the people who are already home and connected remotely.)
We are also working on improving remote connection and working options where possible, including getting more computers and monitors to employees' homes.
With the outlook unclear on how much government support we might get and when, it's clear we need to transition to an operating mode where we can be largely self-sufficient financially without burning out before we get there. Here, the donations we have received have been tremendously helpful in buying us time to get back on our feet.
If you can, please consider donating to help Pololu make it. We have set up item 2400 for donating in $1 increments.
Other ways you can help
Pay now, ship later
In the past week, we added a feature to our online checkout system to allow for orders to be placed with a "pay now, ship later" option that lets you authorize us to charge the payment for an order as soon as it comes in, possibly well ahead of when the order would actually ship. We started working on this feature at a time when we thought complete shutdown of our operations was imminent, when it might have been weeks or even months before we could reopen. As I wrote at the top of this update, we have been able to ship all orders, and I expect to continue shipping, but this option still allows us to prioritize shipments and reduce stress with orders that come in later in the day and can get shipped the next day. We have already received dozens of orders with this option selected, and it is also encouraging just to see that our customers are trying to help us out. Thank you to all of you who have selected that option!
Order non-soldered versions of products, or the higher-stock versions
We offer a few of our products with some of the optional (but usually used) through-hole connectors soldered in. If you are able to solder, please consider ordering the non-soldered versions if there is plentiful stock of them. We do all of the through-hole soldering by hand, and most of our manual assemblers were older or otherwise in the higher-risk population for COVID-19, so they are not currently working here. And if you're at home doing a non-critical project, now is a good time to do a little extra soldering, right?
On a related note, it's a little bit easier for us if you order the item that has more stock. Going back to the screenshot I have at the beginning of this post, it's easy to see our stock levels of similar products: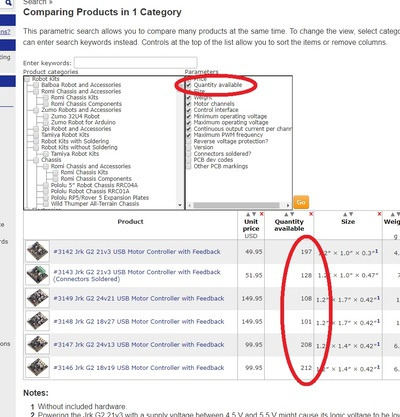 You can check available quantity of similar products on the parametric comparison table.
If your application could get by with either an item of which we have 300 in stock or one of which we have 12 units, please get the product that we have much more of. It's probably a more popular version that we make more often, and it keeps the less popular version available for those who might really need it.
Help each other on our forum
We have had to severely cut back on our technical support. If you are one those people with extra time on your hands now and are familiar with any of our products, please consider helping out our other customers on our forum.
Ask others to help us out
If you know anybody that could afford to help us out, please let them know and ask them to contribute.
Other suggestions and ideas
Part of the reason I went into more details in some areas is so you might be able to better give us advice about how we could make things better. Maybe you're also working at a small business facing similar challenges, and you have some good suggestions. Maybe your uncle has a vacant building nearby. One suggestion I've heard repeatedly is about gift certificates, which we are looking into; if you know of particularly good ways of implementing that or things to be careful about, please let us know.
Thank you all for your support. Stay safe and healthy, everybody!
Please see new update posted Monday, 6 April 2020.
9 comments
Post a comment