Coronavirus update - please help Pololu survive
Posted by
Jan
on 22 March 2020
TL;DR: Pololu is hurting. Skeleton crew is shipping important products to customers fighting COVID-19 around the world. Most employees facing layoffs. Please donate to help us keep operating and spread the word. Donate here.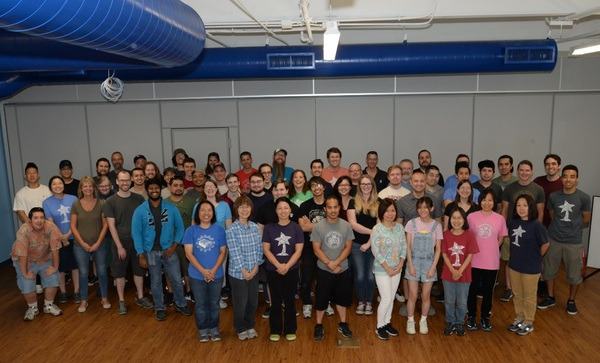 Impromptu picture of most of the company from August 2019, when it was still safe for this many people to gather.
Please see new update posted Sunday, 29 March 2020.
The last time I posted on this blog was in November 2018, sixteen months ago. We have been very busy at Pololu since then, and there is so much good and positive to share about what we did in 2019 and so far in 2020. Unfortunately, what is compelling me to post this update and plea for help is the COVID-19 coronavirus pandemic that is engulfing our planet.
Nevada, where we are located, was one of the earlier states to mandate sweeping reductions in activity, with the governor announcing on the night of Tuesday, March 17, that all nonessential businesses statewide were to shut down starting on Wednesday. We immediately began contacting all of our employees on Tuesday night not to come in the next morning while trying to plan for a shutdown of operations and looking for clarity about the extent to which the order applied to a company like Pololu. On Wednesday through Friday, we operated with a skeleton crew of around twenty of us, making sure we got orders out and received important incoming shipments.
Pololu is probably not the kind of company that first comes to mind when you think of Las Vegas. We design, make, and sell thousands of products from our location just a few miles from the famous Strip. Here is our building when I was locking up Friday night, with the light from the Luxor pyramid lighting up the clouds: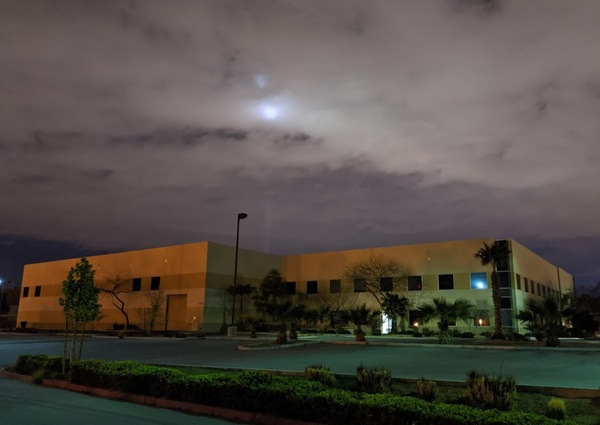 Pololu building exterior on the night of Friday, 20 March 2020.
Inside, we have millions of dollars of equipment on which we have made millions of electronics boards that we have shipped all over the world. This is the newest of our three electronics production lines that we just finished setting up earlier this year, with machines that were all installed in 2018 and 2019: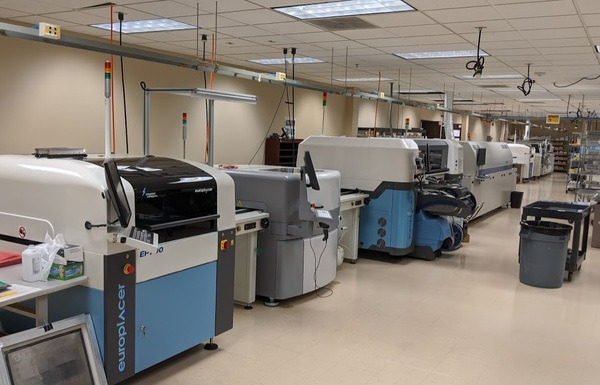 Pololu's newest SMT production line, March 2020.
We have around two dozen pieces of big equipment, each one of which was a substantial undertaking just to install, with the electrical work alone costing tens of thousands of dollars in the most demanding cases. Here is the delivery of our latest laser cutter in November: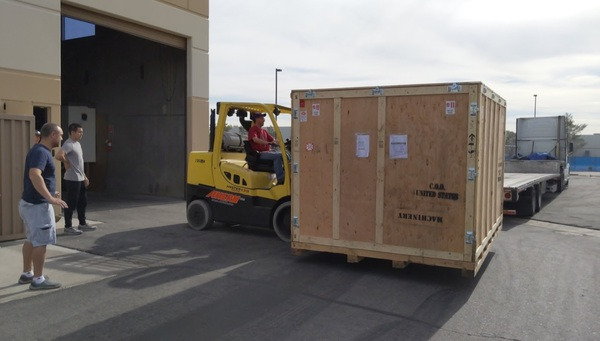 LaserCube delivery November 2019.
We finally completed installation last month, and here is a picture I took for fun three weeks ago, with our first laser cutter from 2003 inside the new one: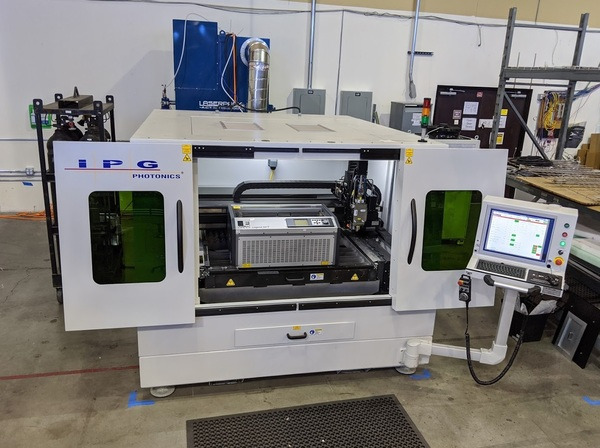 Pololu's first laser cutter from 2003 inside the newest one, March 2020.
I post these pictures to help illustrate that an operation like ours takes a huge amount of effort to build up. I've been working on it for twenty years, and there are about 75 more people working on it with me now. We make and ship physical things, so we can't just do this over a remote computer connection.
And what do we make? For the most part, we make components, like motor controllers and sensors, that go into bigger systems. We do not know most of the applications our products go into, and we cannot disclose some of the more intriguing ones that we do know about. But we have specific confirmation that our products are being used around the world in this fight against the new coronavirus, from components in prototypes for ventilators to components in PCR equipment, including ones used for coronavirus testing.
Are we essential, or essential enough to keep operating? With the changes we had already implemented prior to the governor's order (for example, we suspended order pick-ups, so we are not open to the public), it seems clear that we are legally allowed to operate in accord with the clarifications the government has been issuing since Friday. Even before the ordered closures, we had done things like stagger our production work benches and spread out the tables in the break room: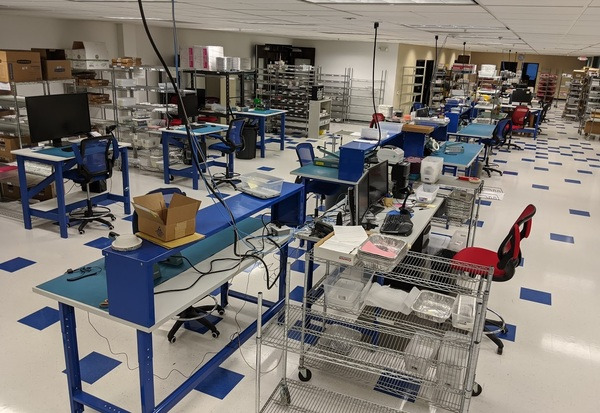 Staggered workbenches in production area, March 2020.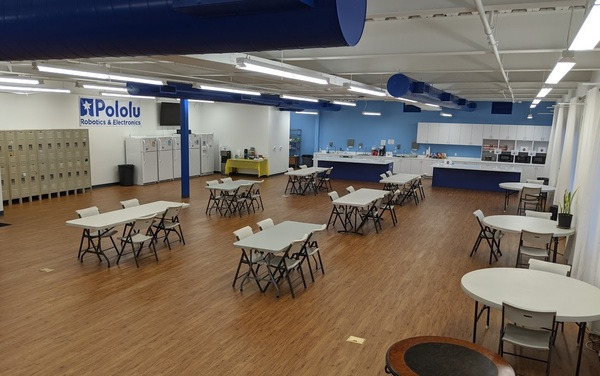 Spread out tables in break room, March 2020.
(FYI several groups of our employees live and carpool together, so a few chairs at one table seemed ok to have as an option. We're probably going to spread out chairs more and go to one assigned table per employee tomorrow.)
We are scrambling to stay in operation and to do it as safely and ethically as possible. The strain of trying to run this size of operation with two dozen people is enormous, especially while constantly having to prepare for being shut down externally and dealing with more and more uncertainties about components we need arriving. We are trying to get more people set up to work remotely, but I am posting these pictures to try to show how we cannot just run with remote workers. We are prioritizing shipping what was already made and making priority products that we know are for especially important customers.
I don't know how much longer we will be able to run. Maybe a few more days? Perhaps even fewer of us can get some especially critical orders out for longer, as long as the shipping companies keep shipping our packages. Things keep changing, so it's hard to say. But if we are not shipping orders, or just a small fraction of the usual ones, money won't be coming in. I have told my employees that they should not count on another paycheck beyond the one they just got on Friday. We will keep paying for health insurance for everyone as long as we can, and we are looking into the ramifications that would have for things like unemployment insurance.
There is no way we can survive a shutdown of many weeks or even months. We tried to have redundancies in our operations, with as many backups as reasonable. We even have two compressors that we alternate each week, so that all our machines are not crippled if one of the compressors has an issue: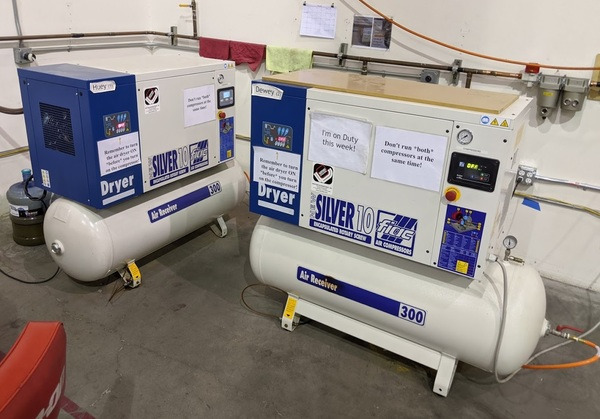 We alternate which compressor runs every week.
But we just are not prepared for the level of shutdown we are facing. And so here I am, writing this post on Sunday night after coming up with a plan for tomorrow for my employees and writing to my landlord for help, begging anyone who reads this to help. I know many people and small businesses everywhere are hurting now. I am sure everyone who has put their life into their business feels like theirs is special. We have the facility and the machines and the people who know how to churn out millions of units of hundreds of designs that people around the world use. We have an awesome team. We just need the money to survive until we can start running again.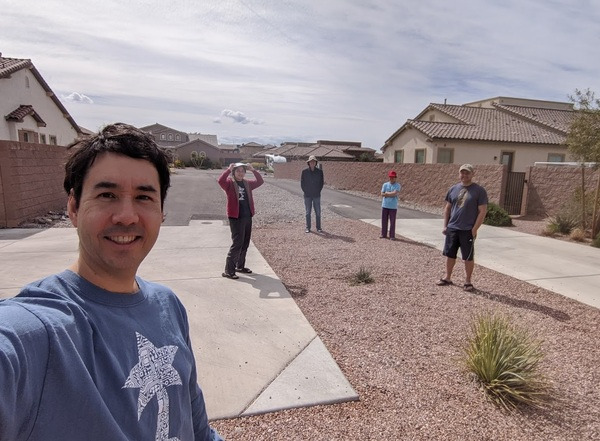 Pololu executive meeting Sunday morning, 22 March 2020.
We are of course looking everywhere for help, and will be applying for whatever disaster relief is available as it becomes available. This is an unprecedented time for us, as I know it is for everyone. I know it is so much to ask for money with no strings attached, especially at a time like this, but that is what will most let us pay our obligations and our employees without diverting resources into extra accounting and agreements. We have set up an emergency product on our website that will allow anyone to donate money to Pololu.
You can use item 2400 to donate in $1 increments. This is still part of our regular website, so checkout will ask you for a shipping address, but there is now a "no shipment" option on the next step of checkout. We'll work on making it smoother.
If you cannot personally donate, perhaps you know of someone who could. Maybe it's someone who likes making things and wants to support a company like Pololu. Maybe it's someone in Nevada who knows nothing about robotics but would like to support diversification of our economy. I threw this post together quickly and marketing was never my strong suit, but I will be updating our pages with more information about why Pololu is especially worthy of your support.
We (the off-site portion of the team!) will also be working on a feature to let you order non-critical items that we would ship once we can resume operations but with permission to charge your credit cards immediately so that we can keep our employees paid. (Update 3/25/20: This feature is now available. You can find the option during step 3 of checkout.)
If you got this far, thank you for your consideration and for any help you can give. Stay safe and try to be kind and useful to those around you.
Please see new update posted Sunday, 29 March 2020.
4 comments
Post a comment