New product: A-Star 32U4 Micro
Posted by
Paul
on 11 April 2014
Today we released a general-purpose AVR microcontroller breakout board, the A-Star 32U4 Micro. But before I get to the A-Star (A* for short), I would like to mention some of our history with AVR boards.
Some of our history with AVR boards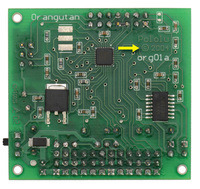 Original Orangutan Robot Controller (back view) from 2004.
It has been almost ten years since we introduced our Orangutan Robot Controller, which featured an AVR microcontroller, dual motor drivers, and user-friendly features like a display and buzzer. Over the years we expanded the line, making larger, more complicated Orangutans like the Orangutan SVP as well as the miniature Baby Orangutan.
I have used the Baby Orangutan in many of my own projects, because I like its simplicity and small size. Ironically, the built-in motor driver gets in the way when I want to use a newer motor driver such as the DRV8835 in a project, since valuable PWM pins are unavailable. So I have built my more recent robots using minimal microcontroller breakout boards without motor drivers, such as Arduinos and the Wixel. (I posted about my latest such project last week.)
Our focus has been on boards that include motor drivers, and we have not had a really simple microcontroller board for people who don't want the motor driver. Even though there are far more powerful controllers available, 8-bit AVR microcontrollers continue to be popular in the community, and the basic AVR breakout board is something we have wanted to make for a long time.

Original ATmega168-based Baby Orangutan robot controller from 2005 (left) next to A-Star 32U4 Micro boards.
Introducing the A-Star 32U4 Micro
That is why I am excited today to announce the A-Star 32U4 Micro, a Pololu breakout board for Atmel's ATmega32U4 AVR microcontroller: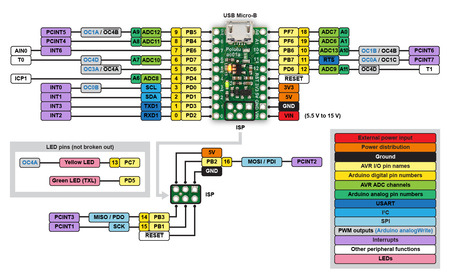 A-Star 32U4 Micro pinout diagram.
Compared to the popular ATmega328P microcontroller that we used on several Orangutan models, the ATmega32U4 is a newer processor with features like more analog inputs, more PWM outputs, and, most importantly, USB support. The USB connection, which we have broken out to a Micro-B connector, makes programming easy and enables interesting projects involving connections to a PC.
Also, since the ATmega32U4 is used on the Arduino Leonardo, Arduino Micro, and many other breakout boards, there is a large community with experience using the microcontroller. To support this community, we are shipping the A* with an Arduino-compatible bootloader and have followed Arduino conventions including pin numbering and LED connections.
Since we wanted to make a minimal breakout board, we decided to make it as small as we could, hoping that it would be small and cheap enough to go into (and stay in) almost any project. The result is that the A-Star 32U4 Micro is, as far as we know, the smallest ATmega32U4 breakout board available. It is even smaller than some AVR boards with less powerful microcontrollers that implement USB support in software and have only a few general-purpose I/O lines available.

The Pololu A-Star 32U4 Micro is about half the size of an Arduino Micro.
Now that we have reached a reasonable extreme on the minimal end, we intend to expand back toward more integrated features, eventually replacing our older Orangutan robot controllers with versions offering more modern power handling and perhaps other features like inertial measurement sensors. What would you like to see in an integrated robotics or automation controller? Did we leave out too much on the A-Star 32U4 Micro? Please let us know in the comment section.
For more information, see the A-Star 32U4 Micro product page.
15 comments
Post a comment