L3-G0: the full-size, LEGO R2-D2
Shawn and Lara Steele, known on the Pololu forum as kresty, built a functional, full-size, LEGO R2-D2 named L3-G0. L3-G0's design is based on plans from the R2-D2 Builder's Club, and it is made from around 16,000 LEGO bricks. It weighs roughly 30 kg (65 lbs) and can travel at a speed of 8 km/h (5 mph). The astromech has a fully functional rotating dome with multiple blinking lights. The dome is rotated using our 80mm wheel fitted with a high-traction sticky tire and powered by one of our 37D gearmotors. L3-G0 is controlled using a 9-channel RC transmitter and features an Arduino along with dedicated motor controllers and sound boards. Electric scooter motors were used for the drive wheels. The astromech also uses Pololu motor controllers and voltage regulators, as well as a SparkFun MP3 Trigger for audio.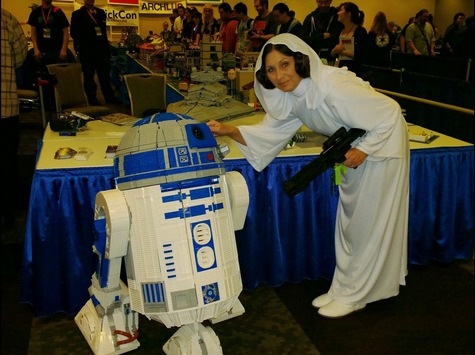 L3-G0 at Emerald City Comic Con.
So far, L3-G0 has made appearances at Brickcon 2013 (as a static model) and Emerald City Comic Con 2014 (fully functional and pictured above), and it is scheduled to make a showing at Brickcon 2014 later this month. L3-G0 has its own blog that Shawn and Lara continue to update with its appearances. The blog also features details about the original build, including several time lapse videos like the one at the top of this post showing L3-G0's construction.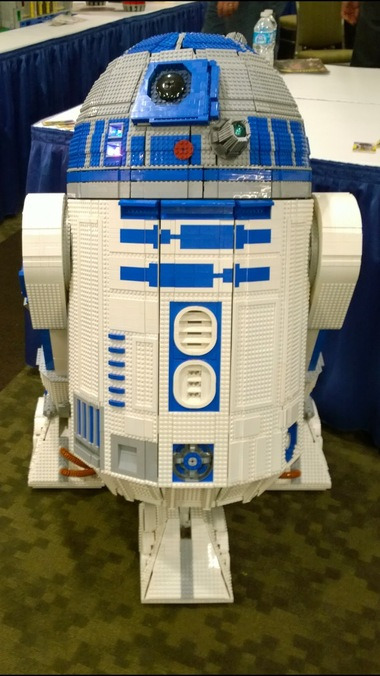 L3-G0: the full-size LEGO R2-D2.
If you are interested in watching more of L3-G0's videos, you can check out its YouTube channel. I am sure putting together 16,000 LEGO bricks is not nearly as easy as Shawn makes it look. To help support the LEGO structure, he used T-slot beams and custom 3D-printed adapter bricks. More of his custom parts can be found on his Thingiverse page.
Other interesting projects by Shawn and Lara, such as a 7,000 piece LEGO Space Needle, can be found on their Random Bits blog. For more information specifically about L3-G0, you can visit the L3-G0 blog.
2 comments
Post a comment