MP3 Trigger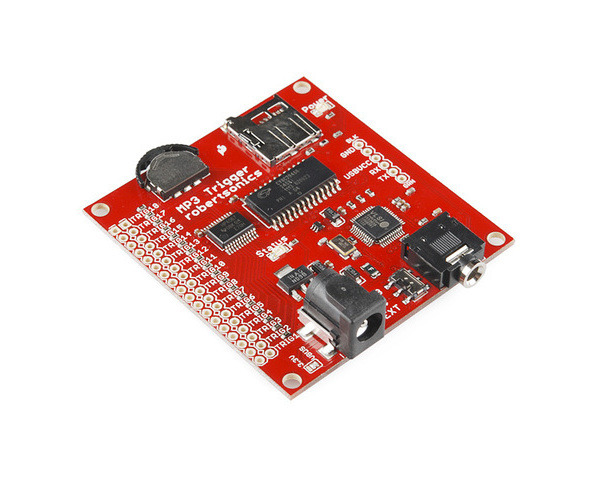 Make some noise with your next project! The MP3 Trigger board is built to make MP3 sound integration easy. The board has 18 external trigger pins that will directly trigger pre-selected MP3 tracks, and a full-duplex serial control port that provides remote triggering for up to 256 tracks and fast, real-time volume control. MP3s are played from a FAT16 formatted SDSC or FAT32 formatted SDHC micro-SD flash memory cards (required but not included). In addition, it achieves 192 Kbps stereo playback from a wide range of cards.
New version available: This board has replaced by the newer MP3 Trigger V24, which includes firmware improvements that make it easier to use without needing a separate microcontroller.
Overview
The heart of the MP3 Trigger board is the Cypress PSoC CY8C29466-24SXI microcontroller which serves up MP3 data to a VLSI VS1063 audio codec IC. This version also supports an optional initialization file that can be used to set the serial port baud rate as well as to reprogram any of the 18 trigger inputs to alternate functions, including random and sequential track selection, transport controls and even volume up/down. Each conventional trigger can be set to either allow immediate restarts, or to lock out restarts if audio is playing. Also, a new trigger filename convention provides greater flexibility in naming your MP3 tracks and makes file management easier.
There is also a "Quiet Mode" feature that can be enabled via the serial control port. In this mode, the trigger inputs don't start tracks directly, but instead produce a serial message indicating which triggers were activated. A host microcontroller can thus monitor the trigger inputs and then start any track or sequence of tracks via the serial control port, making the triggers much more flexible.
Features
Input voltage: 4.5-12 VDC
Current consumption: 45 mA idle, 85 mA playing
File system: FAT16/FAT32
Audio out: 1/8" (3.5 mm) stereo headphone
Trigger inputs: 3.3-5 V, active low inputs with internal pull-ups
Interface: TTL serial, full duplex, 8N1, 38.4K baud
User guide (1MB pdf)
Note: SparkFun calls this product the "MP3 Trigger" SKU: WIG-11029.
People often buy this product together with: