Orangutan robot controller mega8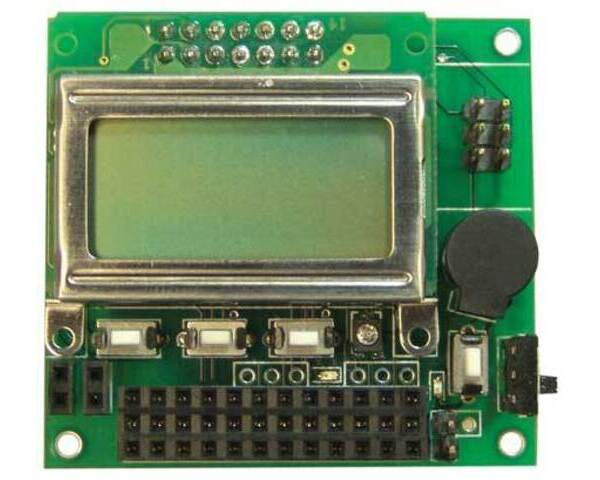 Orangutan robot controller mega8. This product has been replaced by the Orangutan robot controller mega168.
This item has been replaced by a new version. This page is left here for reference purposes only, and this item is no longer available for ordering.
The Orangutan robot controller is a complete control solution for small robots. Orangutan includes an 8-character x 2-line liquid crystal display, two bi-directional motor ports, a buzzer, three pushbuttons, and up to 12 user I/O lines, yet the compact module measures only 2.00" x 1.85" and weighs less than 1 ounce. Because of the complete feature set, very few additional components (such as sensors or motors) need to be added to complete the electronic portion of a small robot. The small package allows for greater flexibility in incorporating the electronics into the mechanical design of a robot.
Orangutan is based on the Atmel MEGA8 microcontroller, which features 8 Kbytes of flash program memory, 1024 bytes of SRAM, and 512 bytes of EEPROM. Up to 8 channels of 10-bit analog-to-digital conversion is also available. Because the user has direct access to the microcontroller, any development software for Atmel's AVR microcontrollers, including Atmel's free AVR Studio and the GCC C compiler, is compatible with Orangutan. An in-circuit programmer such as Atmel's affordable AVR ISP is required for programming Orangutan. For applications requiring more program memory, the MEGA168 microcontroller with double the program space can be substituted for the MEGA8 microcontroller.
The Orangutan input voltage is 5-10 V, making it well-suited for use with small DC motors and 5- to 8-cell NiCd or NiMH battery packs. The motor driver can supply up to a maximum of 1 A per motor channel, subject to power dissipation requirements. Total power consumption (with motors and buzzer off) is under 15 mA.
People often buy this product together with: