GWS S35 STD Continuous Rotation Servo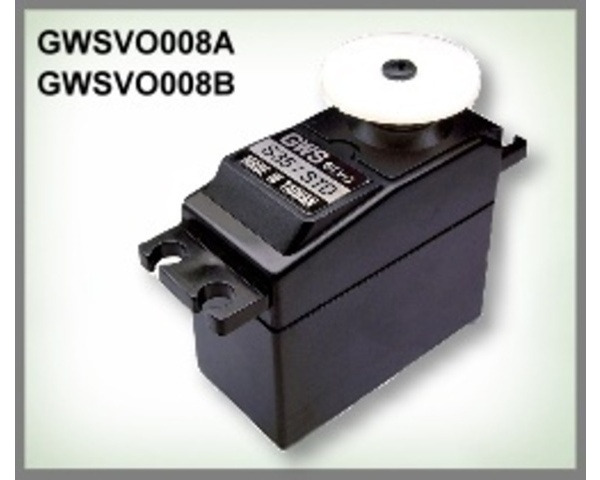 The GWS35 continuous rotation servo is a standard-sized servo that has been built by GWS for continuous rotation. Since servos have their own integrated control circuitry, this unit gives you an easy way to get your robot moving.


Discontinuation Notice: This product has been discontinued. Suggested replacements: Power HD Continuous Rotation Servo AR-3606HB or SpringRC SM-S4303R Continuous Rotation Servo
Overview
The GWSVO008B S35 STD continuous rotation servo converts standard RC servo position pulses into continuous rotation speed. It can be controlled directly by a microcontroller without any additional electronics, which makes it a great actuator for beginner robotics projects.
The servo has an 11" (270 mm) lead that is terminated with a JR-style connector and comes with the following included hardware:
1x small X-horn
1x large X-horn
1x large wheel
1x 6-star horn
1x double-arm horn
mounting hardware: 4x grommets, 4x eyelets, 4x screws
1x horn mounting screw
This robotics servo is compatible with our servo controllers and has a Futaba-compatible output shaft, which means it works with our servo wheels and sprockets. For detailed specifications, please see the specs tab.
Continuous rotation servo comparison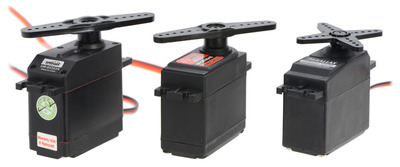 SpringRC SM-S4303R (left), Power HD AR-3606HB (middle), and Parallax (right) continuous rotation servos.
| | | | |
| --- | --- | --- | --- |
| | | | |
| | SpringRC SM-S4303R | PowerHD AR-3606HB | Parallax (Futaba S148) |
| Max Speed @ 6 V: | 54 RPM | 71 RPM | 50 RPM |
| Stall torque @ 6 V: | 71 oz-in | 93 oz-in | 42 oz-in |
| Max Speed @ 4.8 V: | 43 RPM | 62 RPM | 39 RPM |
| Stall torque@ 4.8 V: | 46 oz-in | 83 oz-in | 33 oz-in |
| Weight: | 41 g | 40 g | 43 g |
| Size: | 41.3×20.7×40.2mm | 40.5×20.0×38.0mm | 40.5×20.0×38.0mm |
| Price: | $15.95 | $16.95 | $13.95 |
People often buy this product together with: