Breakout for JST SH-Style Connector, 6-Pin Male Top-Entry (Individually Packaged)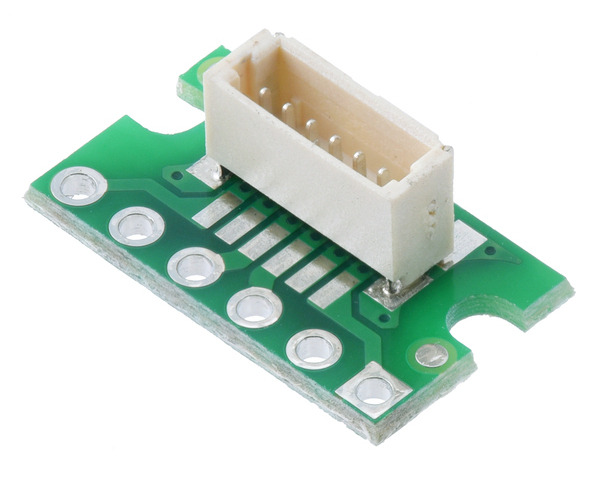 This simple board serves as an adapter between a JST SH-style 6-pin male connector and breadboard-compatible 0.1″-pitch through holes. It works with our assortment of 6-pin female JST SH-style cables and can be used to more easily access the pins of our Micro Metal Gearmotor Encoders with top-entry and side-entry connectors. The silkscreen on the bottom side of the board is labeled with this specific application in mind, indicating which pin on the breakout board would correspond to which pin on the encoder.
This version features a top-entry connector and is individually packaged and fully tested.

Compare all products in Encoders for Micro Metal Gearmotors or

Connectors or

6-Pin JST SH-Style Connector Boards.
Overview
This is a breakout board for a 6-pin male JST SH-type connector that provides access to each pin on a row of 0.1″-pitch through holes, making it compatible with standard solderless breadboards. The through-holes work with standard 0.1″ (2.54 mm) male headers and 0.1″ female headers, which are available separately.
This board can be used with our Micro Metal Gearmotor Encoder with top-entry connector or with side-entry connector, along with a female-female JST SH-style cable (available in 10 cm, 16 cm, 25 cm, 40 cm, and 63 cm lengths). When used this way, the breakout provides convenient access to the motor and encoder pins on a breadboard, and the pins are labeled on the board's bottom silkscreen with this application in mind.
Alternatively, this board can serve as a general-purpose breakout for other applications; for example, a pair of connector breakouts with a female-female cable could be used as a removable general-purpose interconnect between different parts of a modular system.
Details for item #4770
This item is a single individually-packaged board with a top-entry connector that is fully tested. Alternatively, you can get a 3-pack of boards with top-entry connectors that have not been electrically tested and are offered at a discounted price to reflect this.
We also offer a version with a side-entry connector, either individually packaged or in a 3-pack and untested.
Compatible cables
We have a variety of cables that work with this breakout board.
Twisted female-female cables with female JST SH-style connectors on both ends are available in five lengths:
Single-ended cables, with a female JST SH-style connector on one end and unterminated wires on the other end, are available in three cable lengths:
Use with Micro Metal Gearmotor Encoders
When used with our encoders and JST SH-style cables, the wire color scheme is as follows:
| Color | Function |
| --- | --- |
| Red | motor power (connects to one motor terminal) |
| Black | motor power (connects to the other motor terminal) |
| Blue | encoder Vcc |
| Yellow | encoder A output |
| White | encoder B output |
| Green | encoder GND |
For more information on how to use the encoders, see the encoder product pages.
People often buy this product together with: