6-Pin Female-Female JST SH-Style Cable 40cm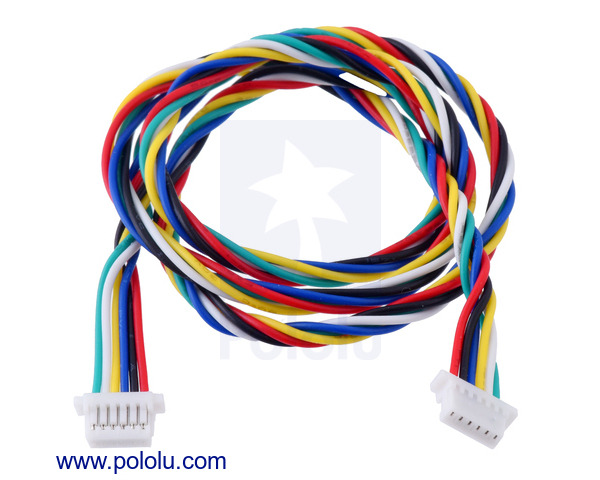 Alternatives available with variations in these parameter(s): length Select variant…
Single-sided cables are also available:
Alternatives available with variations in these parameter(s): length Select variant…

Compare all products in Cables and Wire or

Connectors or

Encoders for Micro Metal Gearmotors or

6-Pin JST SH-Style Cables.
Overview
This cable is designed to work with our Micro Metal Gearmotor Encoders with top-entry connector and with side-entry connector. It consists of six twisted 28 AWG color-coded wires that are terminated on both ends by female JST SH-type connectors.
You can use the cable to connect an encoder to our JST SH-style connector breakout board (available in top-entry and side-entry versions), allowing you to easily access the motor and encoder pins on a standard solderless breadboard. Alternatively, a cable with two connector breakout boards could serve as a removable general-purpose interconnect between different parts of a modular system.
Use with Micro Metal Gearmotor Encoders
When used with our encoders, the wire color scheme is as follows:
| Color | Function |
| --- | --- |
| Red | motor power (connects to one motor terminal) |
| Black | motor power (connects to the other motor terminal) |
| Blue | encoder Vcc |
| Yellow | encoder A output |
| White | encoder B output |
| Green | encoder GND |
For more information on how to use the encoders, see the encoder product pages.
Available options
Our female-female cables are available in five lengths:
We also have single-ended cables, with a female JST SH-style connector on one end and unterminated wires on the other end, available in three cable lengths:
People often buy this product together with: