50:1 Micro Metal Gearmotor HPCB 6V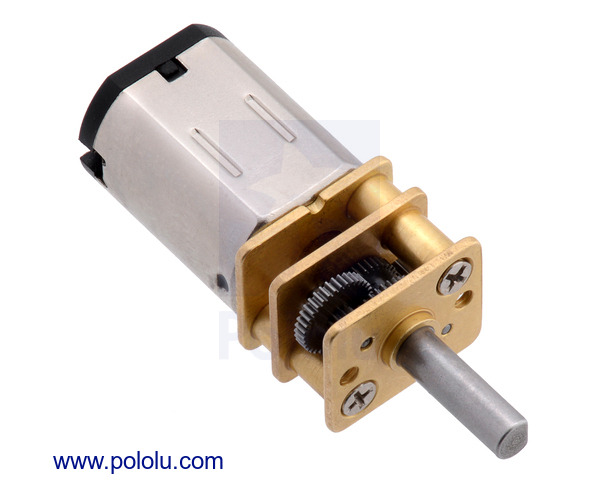 This gearmotor is a miniature high-power, 6 V brushed DC motor with long-life carbon brushes and a 51.45:1 metal gearbox. It has a cross section of 10 × 12 mm, and the D-shaped gearbox output shaft is 9 mm long and 3 mm in diameter.
| voltage | no-load performance | stall extrapolation |
| --- | --- | --- |
| 6 V | 650 RPM, 150 mA | 0.74 kg⋅cm (10 oz⋅in), 1.5 A |
Alternatives available with variations in these parameter(s): gear ratio motor type extended motor shaft? Select variant…

Compare all products in 6V High-Power Carbon Brush (HPCB) Micro Metal Gearmotors.
- 14 March 2017

Forum user DrGFreeman has been posting about his custom Mini Sumo robot. He designed the chassis in CAD and 3D printed it; the model is available on...

- 4 December 2015

Hi, my name is Patrick. I am an engineering intern at Pololu and am studying at the University of Nevada, Las Vegas to earn a mechanical engineering...

- 12 June 2015

We are excited to introduce new versions of our high-power micro metal gearmotors with long-life carbon brushes in place of the standard precious...