Pololu 5V, 5A Step-Down Voltage Regulator D24V50F5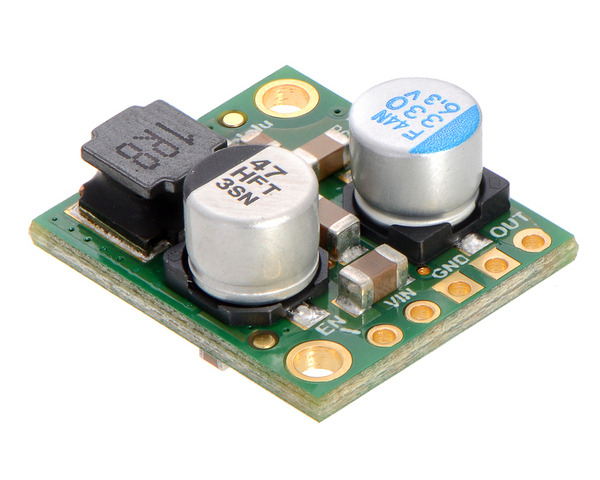 This small synchronous switching step-down (or buck) regulator takes an input voltage of up to 38 V and efficiently reduces it to 5 V. The board measures only 0.7″ × 0.8″, but it allows a typical continuous output current of up to 5 A. Typical efficiencies of 85% to 95% make this regulator well suited for high-power applications like powering motors or servos. High efficiencies are maintained at light loads by dynamically changing the switching frequency, and an optional shutdown pin enables a low-power state with a current draw of a few hundred microamps.

Compare all products in Step-Down Voltage Regulators.
- 4 June 2019

For the second year in a row, Team Hitchin Hackspace and their robot, Tito-Stretch, placed 4th overall in the Pi Wars! They did this at the...

- 29 January 2019

Congratulations to Team Anveshak from IIT Madras, who took first place at the 2019 Indian Rover Challenge! The IRC is a robotics and space...

- 3 October 2014

Remember the post I wrote two weeks ago about our tiny D24V25F5 voltage regulator and some of the testing that we did on it? Well, we were so...