D36V50Fx Step-Down Voltage Regulators
The D36V50Fx family of buck (step-down) voltage regulators generates lower output voltages from input voltages as high as 50 V. They are switching regulators (also called switched-mode power supplies (SMPS) or DC-to-DC converters), which makes them much more efficient than linear voltage regulators, especially when the difference between the input and output voltage is large. These regulators can typically support continuous output currents between 2 A and 9 A, depending on the input voltage and output voltage.
The graph below shows maximum output currents that these regulators can deliver continuously at room temperature in still air and without additional heat sinking.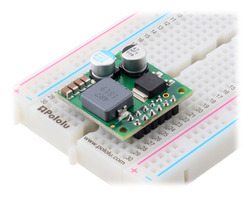 Step-Down Voltage Regulator D36V50Fx, assembled on breadboard.
This family includes six versions with fixed output voltages ranging from 3.3 V to 12 V:
The regulators have reverse voltage protection up to 40 V, output undervoltage and overvoltage protection, over-current protection, and short-circuit protection. A thermal shutdown feature also helps prevent damage from overheating and a soft-start feature limits the inrush current and gradually ramps the output voltage on startup.

Compare all products in this category
Products in category "D36V50Fx Step-Down Voltage Regulators"