New Product: 5V, 5A Step-Down Voltage Regulator D24V50F5
Posted by
Claire
on 3 October 2014
Remember the post I wrote two weeks ago about our tiny D24V25F5 voltage regulator and some of the testing that we did on it? Well, we were so happy with how that regulator turned out that we decided to make a higher-power version with a larger inductor and beefier MOSFETs. This new regulator is the D24V50F5, and while it is only 0.1″ bigger than its 2.5 A cousin, it can deliver 5 amps!

Side-by-side comparison of the 2.5A D24V25Fx (left) and 5A D24V50F5 (right) step-down voltage regulators.
You can see the bigger MOSFETs on the bottom side: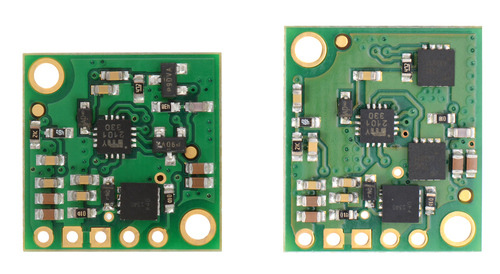 Comparison of the D24V25Fx (left) and D24V50F5 voltage regulators showing larger MOSFETs on the higher-power board.
The D24V50F5 can also take inputs up to 38V and has typical efficiencies of 85% to 95%. It's amazing how much power these little 3×3 mm MOSFETs can handle, and with its compact size and high power, this regulator is our new favorite.
35 comments
Post a comment