20.4:1 Metal Gearmotor 25Dx62L mm HP 6V with 48 CPR Encoder (No End Cap)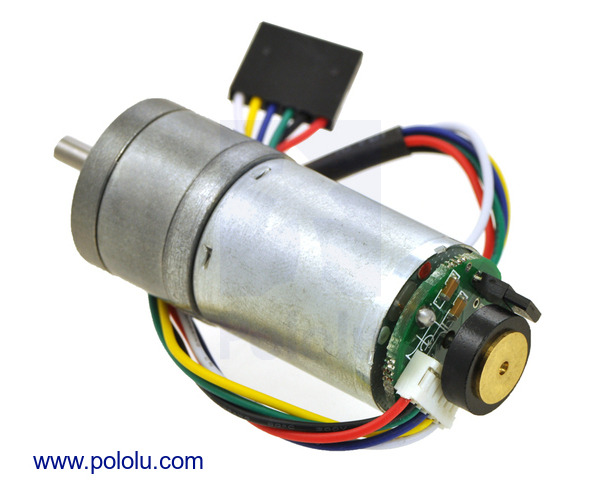 Clearance: This is being replaced by a functionally identical version that has a removable protective end cap over the encoder.
This gearmotor consists of a high-power, 6 V brushed DC motor combined with a 20.4:1 metal spur gearbox, and it has an integrated 48 CPR quadrature encoder on the motor shaft, which provides 979.62 counts per revolution of the gearbox's output shaft. The gearmotor is cylindrical, with a diameter just under 25 mm, and the D-shaped output shaft is 4 mm in diameter and extends 12.5 mm from the face plate of the gearbox.
| voltage | no-load performance | stall extrapolation |
| --- | --- | --- |
| 6 V | 460 RPM, 550 mA | 5.5 kg⋅cm (75 oz⋅in), 6.5 A |
You can use the following selection boxes to choose from all of our 25D metal gearmotor versions:
Alternatives available with variations in these parameter(s): gear ratio motor type encoders? Select variant…

Compare all products in 6V High-Power (HP) 25D mm Gearmotors or

25D Metal Gearmotors with 48 CPR Encoders (No End Caps).
Dimensions
| | |
| --- | --- |
| Size: | 25D x 62L mm1 |
| Weight: | 98 g |
| Shaft diameter: | 4 mm |
General specifications
| | |
| --- | --- |
| Gear ratio: | 20.4:1 |
| No-load speed @ 6V: | 460 rpm |
| No-load current @ 6V: | 550 mA |
| Stall current @ 6V: | 6500 mA |
| Stall torque @ 6V: | 75 oz·in |
| Motor type: | 6.5A stall @ 6V (HP 6V) |
| Lead length: | 8 in2 |
| Encoders?: | Y |
Notes: