Zumo Chassis Kit (No Motors)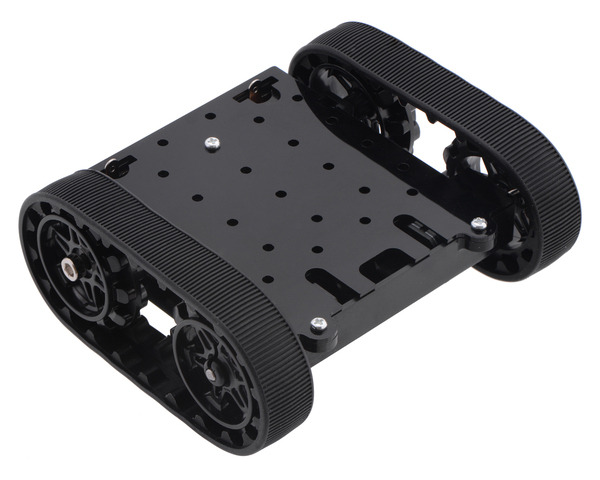 The Pololu Zumo chassis is a small, tracked robot platform that is less than 10 cm on each side, allowing it to qualify for Mini Sumo competitions. The chassis is composed of black ABS and features a compartment for four AA batteries and sockets for two micro metal gearmotors. It ships as a kit with two silicone tracks, two drive and two idler sprockets, a 1/16″ acrylic mounting plate, and mounting hardware. (Motors and batteries are not included.)

Compare all products in Chassis or

Zumo Robots and Accessories or

Zumo Kits and Robots.
Documentation and other information
User's guide for the Pololu Zumo chassis.
File downloads
Recommended links
This robot uses a Raspberry Pi and Zumo Chassis Kit and can be remotely controlled over WiFi from an iPhone. The page is written in German, but it has a link at the top to translate it into English using Google Translate. We also wrote about the PiBot-B in our blog.

This article was written by Professor Erich Styger for his class on embedded systems programming at the Lucerne University of Applied Sciences and Arts. It describes various ways to tweak the performance of a Zumo to be more competitive in a Mini Sumo competition. Note that his Zumos use a custom PCB rather than our Zumo shield for Arduino; our shield has a lot of capacitance in parallel with the batteries that generally prevents the "battery inertia" problem Erich describes.