Micro Maestro 6-Channel USB Servo Controller (Partial Kit)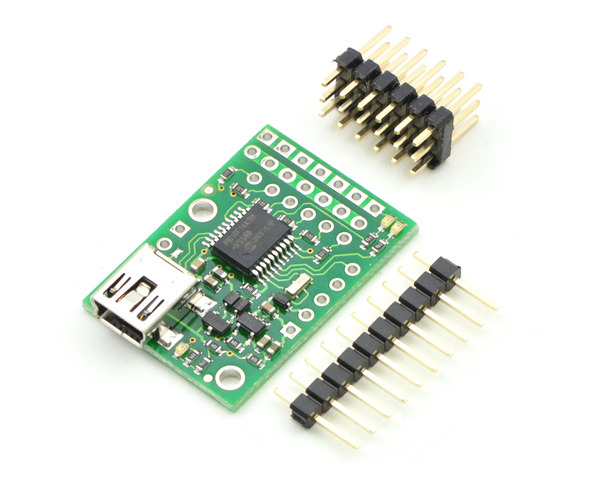 The six-channel Micro Maestro raises the performance bar for serial servo controllers with features such as a native USB interface and internal scripting control. Whether you want high-performance servo control (0.25 μs resolution with built-in speed and acceleration control) or a general I/O controller (e.g. to interface with a sensor or ESC via your USB port), this tiny, versatile device will deliver. Header pins are included but not soldered into this partial kit version (all surface-mount components are soldered).
Alternatives available with variations in these parameter(s): channels partial kit? Select variant…

Compare all products in Maestro USB Servo Controllers or

RC Servo Controllers or

Computer Interface.
Dimensions
| | |
| --- | --- |
| Size: | 0.85" x 1.20" |
| Weight: | 3.0 g1 |
General specifications
| | |
| --- | --- |
| Channels: | 6 |
| Baud: | 300 - 200000 bps2 |
| Minimum operating voltage: | 5 V |
| Maximum operating voltage: | 16 V |
| Supply current: | 30 mA3 |
| Partial kit?: | Y |
Identifying markings
| | |
| --- | --- |
| PCB dev codes: | usc02a |
| Other PCB markings: | 0J1433, 0J4005 |
Notes: