Posts tagged "manufacturing"
You are currently viewing a selection of posts from the Pololu Blog. You can also view all the posts.
Popular tags: community projects new products raspberry pi arduino more…
Posted by
Jan
on 21 March 2017
Most of the products we manufacture are small electronics subassemblies, which we have been packaging in these pink antistatic bags that are probably familiar to everyone who has worked with electronics:
These bags are supposed to help prevent charge buildup and therefore help prevent the sensitive components inside from getting damaged just from the bags being shuffled around. But, if you charge yourself up and then grab the bag, you can still zap the electronics inside through the bag.
This year, we began transitioning our packaging to metalized shielding bags, like this:
These bags have the charge buildup prevention of the pink bags but also have a metal layer that prevent the spark from getting from your finger to the electronics parts in the bag. Most bags I have seen have some plastic coating outside the metal layer so that you don't have zero resistance along the surface of the bag, but I have heard of people shorting things out by powering them up while sitting on some types of metallic bags.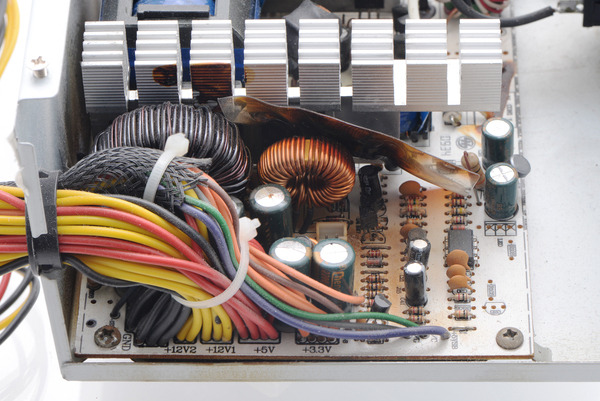 Did a static discharge into a USB port cause this power supply to go up in smoke?
I once got a huge static shock when I plugged a flash drive into my USB port, and right after that, a bunch of sparks and smoke came out of my computer's power supply. I'm pretty sure that wasn't a coincidence, but I still can't be sure it was a case of electrostatic discharge (ESD) destroying my computer. And usually, ESD damage is much more subtle and basically impossible for us to confirm. So, changing the packaging is one of those things where it will be very difficult to tell if it's really doing anything. But we go through a lot of effort to inspect and test each item we make so that we can be confident it worked when we made it, so this packaging change should give us still more confidence that the part is in good condition when you receive it. It will take a while before all of our products get changed over, so don't be shocked if your order arrives with a mix of packaging types.
Posted by
Ryan
on 17 July 2014
We recently released the A-Star 32U4 Micro, which we think is the best available AVR breakout board for its size. If you are like us, you enjoy taking factory tours, seeing how things are made on How It's Made, and watching your Krispy Kreme doughnuts get created right before you personally eat them. Since most of you have not been able to visit us here in Las Vegas, we've made a video that shows how your A-Star Micro gets made!
The video shows how the A-Star Micro goes from a bare printed circuit board to an assembled and tested product. It is one of our more complex boards to make because it has components on both sides—this means two trips through the stencil printer, pick-and-place machine, reflow oven, and automated optical inspection machine. Here are some of the machines featured in the video:
Speedprint SP700 AVI stencil printer
Samsung SM421F pick and place
Heller 1707 MK III reflow oven
Nordson YESTECH BX-12 automated optical inspection
| | |
| --- | --- |
| A-Star 32U4 Micro, side A. | A-Star 32U4 Micro, side B. |
For those of you who like to be mesmerized by big machines moving thousands of tiny components quickly, we also have a video that shows the full pick-and-place sequence of a panel of forty A-Star Micros. (Note that this is not an accurate representation of the assembly time since the feeders are moved to the side to make room for the camera.)
For more videos like these, see our YouTube playlist: Pololu manufacturing: how our products are made and subscribe to our channel. By the way, you can still get a free A-Star Micro with your order over $100.